Agriculture has High Hopes for Hochul
By Steve Ammerman
Director of Communications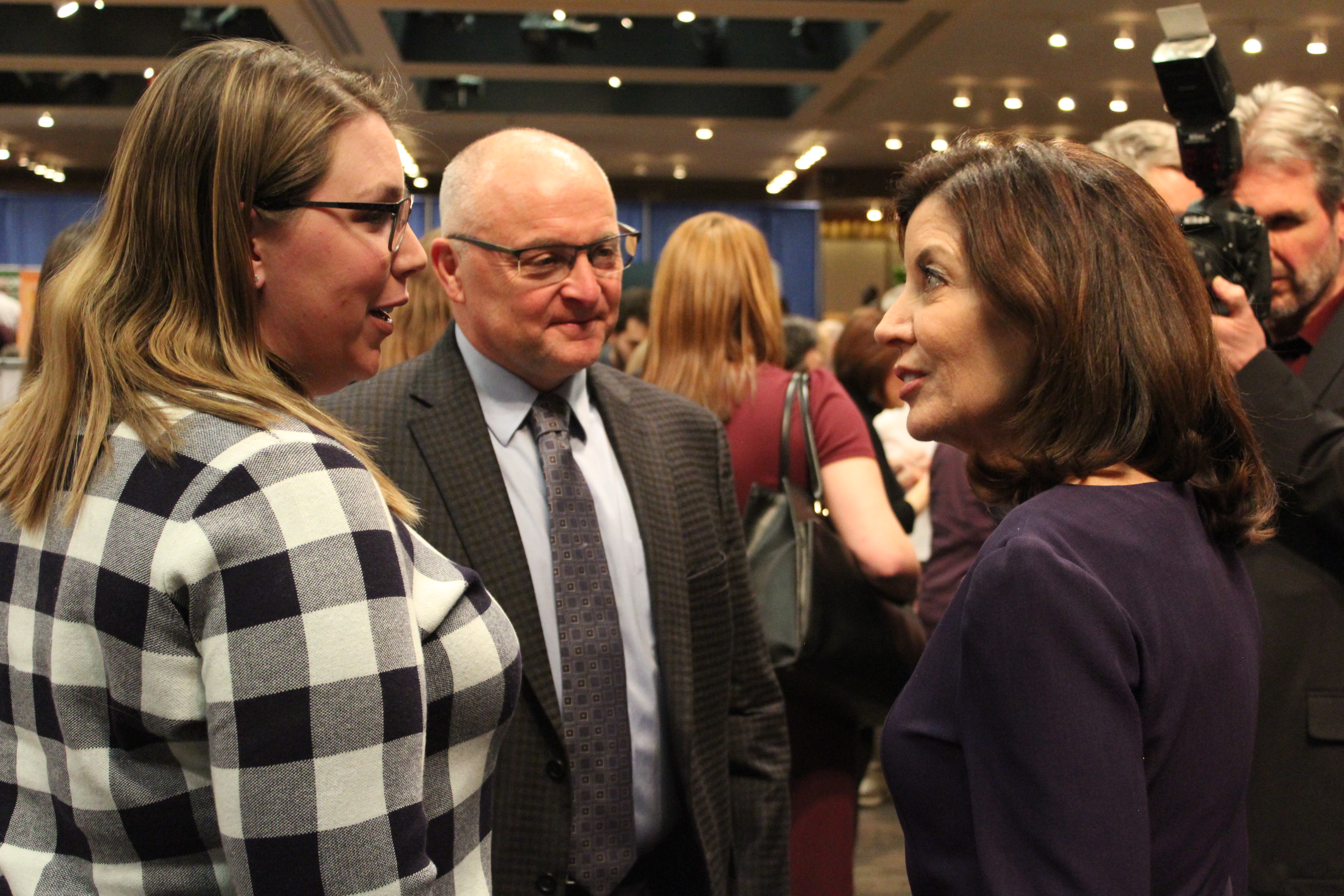 Gov. Kathy Hochul has been on the job for a week, and many in agriculture are hoping to continue the relationship building that has been her hallmark during her career in public office.

The former Lieutenant Governor stepped into the role after former Gov. Andrew Cuomo announced he was resigning last month following a damaging report from the Attorney General regarding sexual harassment allegations. One of her first public events following that announcement was a stop at the Erie County Fair, a site familiar to the Buffalo native.

She toured the fairgrounds with New York State Agriculture and Markets Commissioner, Richard Ball, stopping to visit with 4-H students, checked out the animal exhibits and spoke to the media in front of the Agriculture Discovery Center. She said the fair was a big part of her life when she was younger, and she wanted to reinforce its importance as more people across the state get to know her.

"I was a little girl in this town, never missed a single year. Even as an adult, I did not miss coming here," she said quoted by WBFO in Buffalo. "But it also brought back a memory. As a young 4-Her, this is the place I gave my very first public speech. I was 10 years old, part of a program where we had to come up with a healthy food, make a poster and talk to people in public about it."

It is that connection to agriculture that has been unique to the governor's office in recent memory. Hochul has long made agriculture a focus of hers during her term in Congress representing her western New York district as well as her nearly two terms as Lieutenant Governor. Previously she was also Erie County Clerk and served on the Hamburg Town Board.

In office, she routinely visited farms and made an annual appearance at New York Farm Bureau's annual Taste of New York Reception during its lobby days events in Albany. She often spent a couple of hours visiting with farmers and taking special interest in meeting with FFA students.

New York Farm Bureau President David Fisher released a statement at the news of her ascension to the governor's' office, "New York Farm Bureau looks forward to working with Governor Kathy Hochul as she seeks to provide stability to New York State government and address critical matters facing our state. She is a longtime friend to the state's farming community and its people. Her work in Congress and as Lieutenant Governor brought her close to the issues facing agriculture, and she has always been open to listening to our concerns, visiting our farms, and attending the annual Taste of NY reception in Albany. Governor Hochul recognizes that New York agriculture is vital to our state's economy, local food supply, and access to healthy food for all New Yorkers."
Caption: Kathy Hochul met with NYFB Young Farmers & Ranchers Chair Christina Kohler Hudson and NYFB President David Fisher during NYFB's 2020 Taste of NY reception in Albany.