Alpaca Farmer Seeks to Breed Greater Interest in her Animals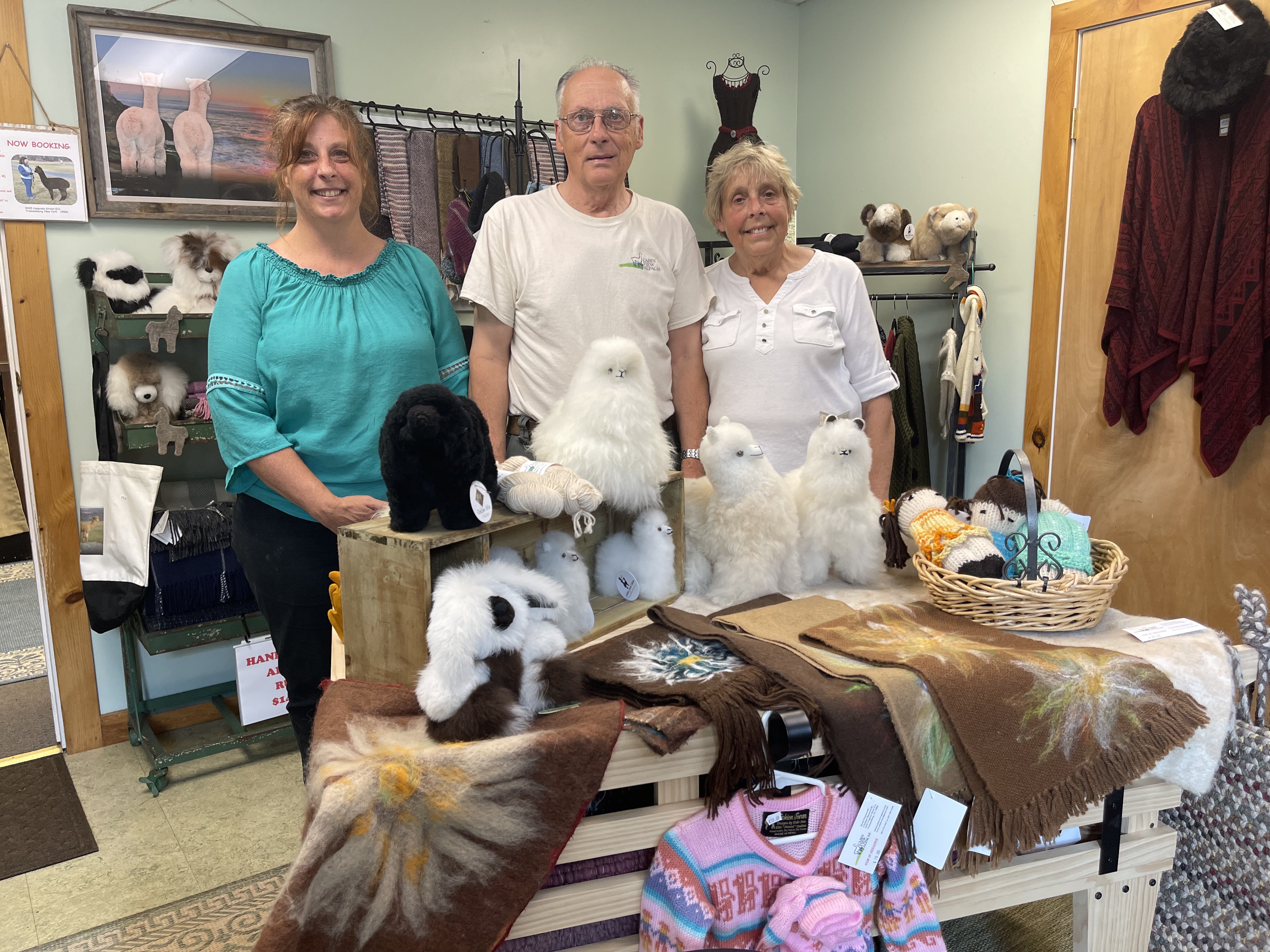 NYFB Director of Communications
Christine Houseworth considers herself a competitive person, which explains how in just 12 years of owning her alpaca farm, Cabin View Alpacas, she has amassed a room full of ribbons and trophies recognizing the quality of the farm's animals and fiber production.

The farm sits on 30 scenic acres overlooking Cayuga Lake in the Finger Lakes. Christine and her husband David, members of Seneca County Farm Bureau, have about 44 alpacas that graze their land, but also eat grain and hay in the winter. Calling the alpacas cute is an understatement. The animals, originally from South America, are known for their easy-going temperament and curious nature. But the Houseworths know there is much more to the animals than their looks and pleasant attitude.

The couple is in the breeding business, the primary focus of their farm. It is the attention to detail that has made their farm a success in terms of both sales and those awards.
"Our goal is to improve the quality of the alpaca to sell to other breeding farms or those who want to shake up their genetics or starter farms that want to get into the breeding program," said Christine Houseworth.

They breed about a dozen animals a year, primarily selling her registered animals to other farms in the Northeast but have sent their alpacas as far away as California, Georgia and Tennessee. They also participate in auctions, one of the largest held annually in North Salem, NY.

She says at auctions and industry shows, the alpaca's conformity is important. Buyers and judges look for straight legs, neck and body. The other 50% of positive attributes come from the animal's fiber. It is important for it to have fineness, a good staple length and uniformity in color, among other things.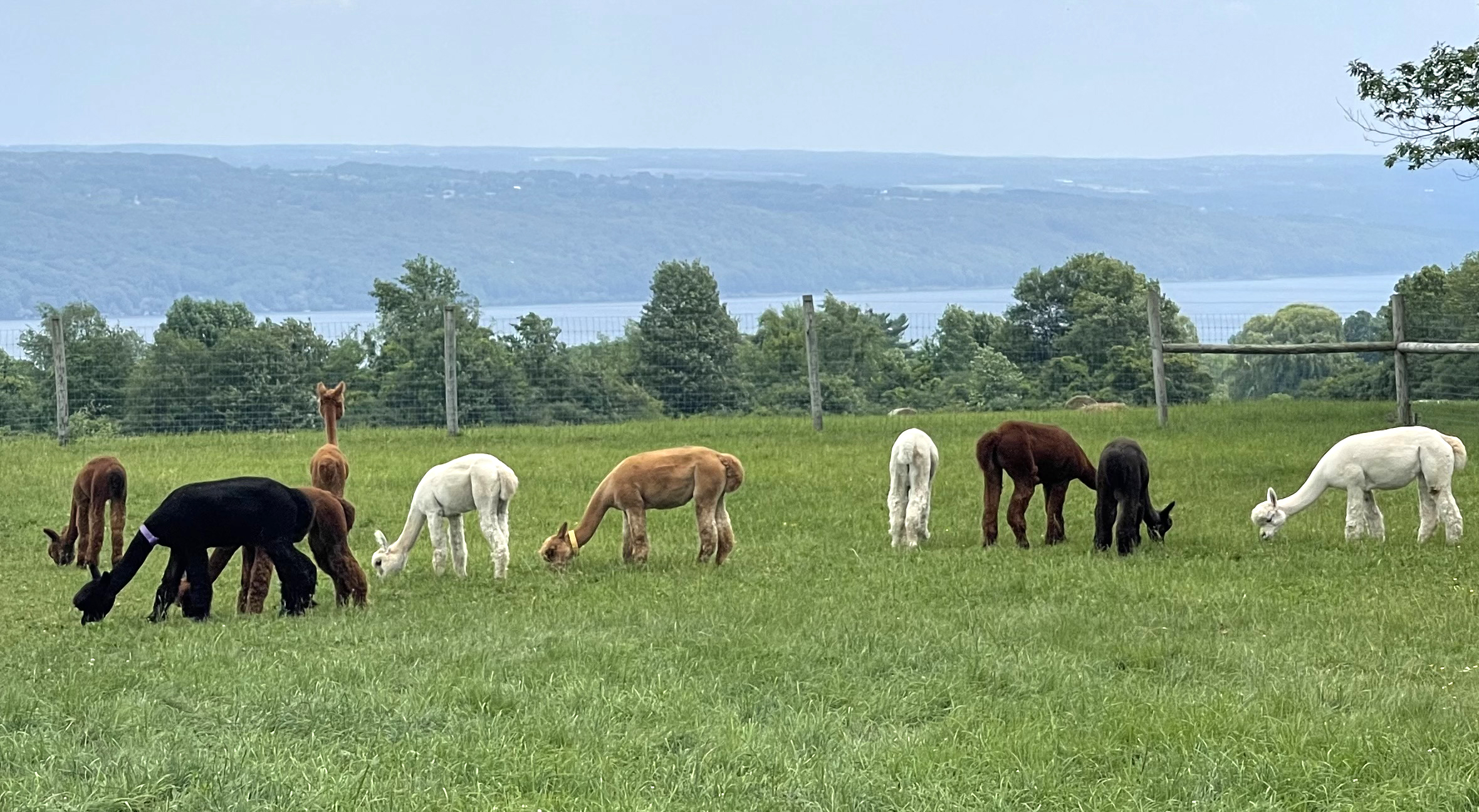 Much of this will be on display at an upcoming large alpaca show that will be held in Syracuse in October.

"The better you do at a show, the more valuable your animal is and the better reputation you will get in the alpaca industry," she said. "I want to take my animals out there and show the alpaca industry that cabin view is not to be reckoned with. We have created a good reputation for our farm and people recognize our names."

While breeding is the farm's central focus, the fleece is what Houseworth calls a "bonus product." They sheer their animals every year and partner with a mill in Penn Yan to turn the fleece into yarn. They also participate in the Empire Alpaca Association's Fiber Project. The farm donates fiber that is then turned into blankets and wearable products that are sold to the public. Cabin View can buy the products at wholesale and sell them in the small store on their farm, marketed as New York made. This effort raises money for their commodity association as well.
Houseworth is passionate about sharing the story of her farm and the animals. One way to do that and provide additional income is opening the farm up for tours, which have proven to be incredibly popular, especially at a time when people were looking for outdoor activities.

"In order to make us more sustainable, we started doing tours. Last year because of the pandemic, we were swamped," said Houseworth.

They lead multiple tours, Friday through Saturday. People can pay extra to walk an alpaca around the pasture. And yes, alpaca yoga is starting up this summer. Customers can exercise while the alpacas wander around them. Finally, they plan to have a farm festival on Saturday, September 25 complete with food trucks and other vendors.

"People don't know much about alpacas. They are inquisitive about alpacas just like alpacas are inquisitive about them," she said. "They are a very docile animal. I am bewildered why they haven't taken off more in New York State. They are a great 4-H animal. Little kids can handle these guys."

Houseworth estimates that there are probably 13 to 15-thousand alpacas in New York State. The farms range from hobby farms with a just a few animals to larger ones like hers. She says her farm is considered mid-size in the alpaca world. One of the largest farms is Little Creek Farms in North Salem and its sister farm in Cazenovia. Her hope is the alpaca business finds a way to better industrialize the product to push the manufacturing of fiber forward. That will help the cottage industry to grow.

Regardless of size, Houseworth encourages people who are interested to check out having alpacas. She grew up on an angus beef farm and knows quite a bit about raising livestock, calling alpaca farming a nice way of life. She is willing to mentor new farmers whom she sells to in order to help them and the animals.

"If someone is looking for a change in lifestyle and that the kids can help with, alpacas are a good way to go. You can be as serious as you want to be or just make it a hobby farm," she said. "It keeps you busy, but nothing like raising the black angus," she jokes.
Caption (top photo): Robin and her parents David and Christine Houseworth show off the items for sale at their farm store made with New York State alpaca fiber. The store is open during farm tours and special events that are held at the farm.