Big aLICe Brewing Opens in the Finger Lakes
NYFB Field Staff Advisor
Kyle Hurst started home brewing in the late nineties and after moving to New York in 2008, he pitched the idea of starting a brewery in Queens with his business partner Scott Berger and they opened their doors in 2013. When the Farm Brewery Act passed in 2013, Kyle and Scott applied for the new farm brewery license. According to Hurst,
"When we started brewing, I was brewing in a ten-barrel facility. At that size, a New York City reference for what we were doing at our scale. We st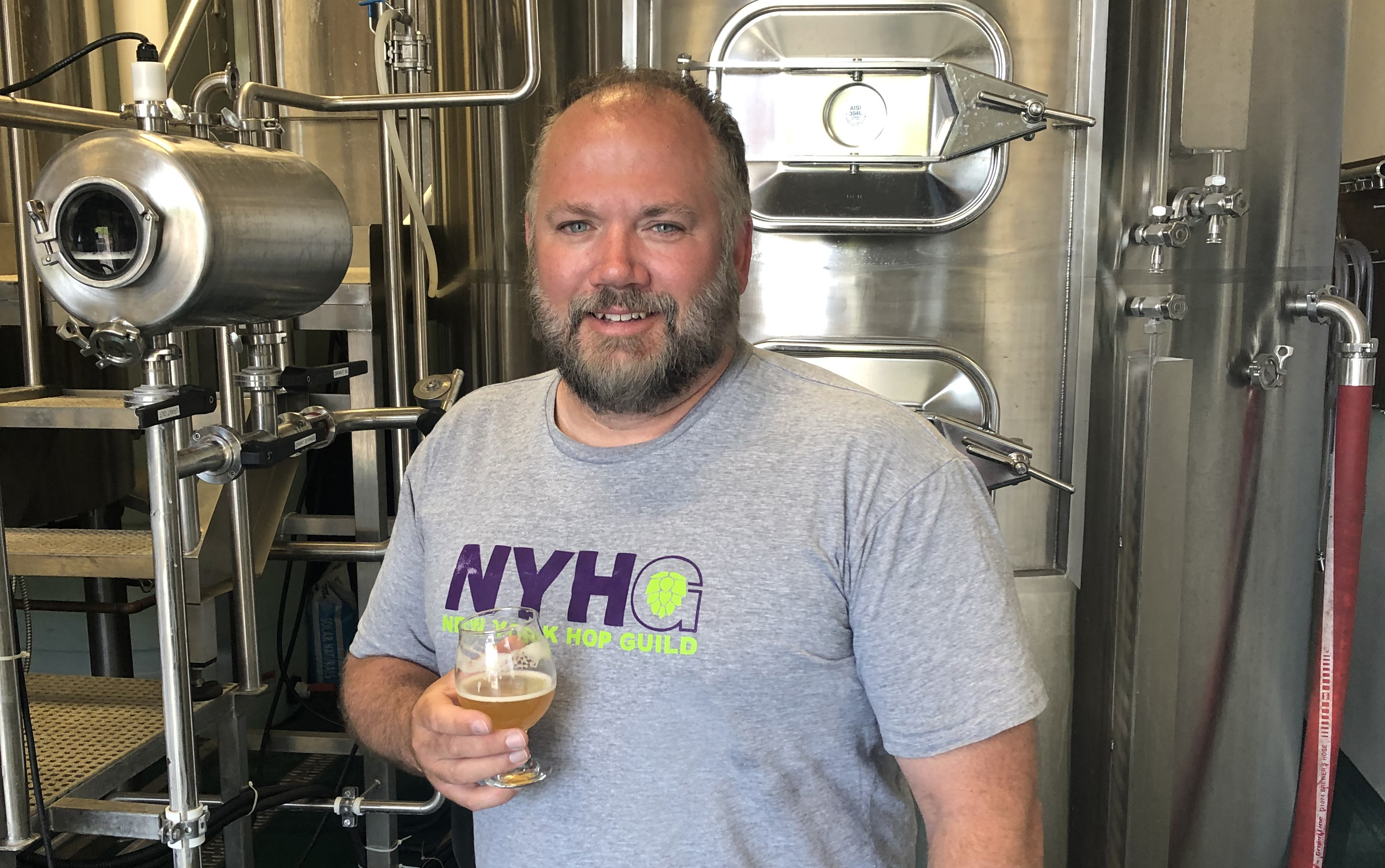 arted looking around our neighborhood and did some research and the whole time we were doing this we were operating in the shadow of this giant power plant that we learned makes about one third of the city's power and is nicknamed Big Alice. We changed the spelling because we did not know if the name was in the public domain," he said.
Right in the middle of Alice is LIC or our community of Long Island City, so that is how we became Big aLICe Brewing.
In their logo, Big aLICe Brewing notes that they are agriculturally focused. Kyle said, "When we opened the brewery, we were working a lot with CSA's getting whatever Community Supported Agriculture we could and that translated into our brewing. We try to really focus on where our ingredients are sourced, how it's grown and who's growing it. We knew a lot of the hop growers and maltsters. As a small business, you are always looking for people to support you so it would be hypocritical of us to not support local businesses including New York farmers. We want to source as close to home as possible."
In 2019, Hurst and Berger opened a barrel aging facility and tap room in Industry City, Brooklyn. Hurst commented, "It gave us more space to expand our barrel program and provided a second revenue stream with a new tap room."
On May 1, 2021, they opened their third location in Geneva. Kyle explained how that happened, "Last July, Scott, our wives and I rented a house on Keuka Lake and really just fell in love with the Finger Lakes. When we returned from vacation, I was telling some of my brewery owner friends about the area and they were the ones that saw the for sale listing of Gael Brewing in Geneva. We saw the listing on a Tuesday, made an appointment for Friday and by Monday we made a full price offer on the brewery. We knew this was the right space for us, we loved it up here."
Hurst and Berger brought up brewer Dominic Simms and Emily Callahan from their Queens facility to serve as head brewer and assistant brewer, respectively. Dominic is originally from the region hailing from Avon. On the north side of the building, they have a four-thousand-foot outdoor space for busses, tour groups and VIP space. They have an additional four outdoor spaces for seating with two of them devoted to games like corn hole and Jenga.
In 2020, Big aLICe received two big awards, first the Governor's Cup for the best beer in NYS for their fruited sour, "The Many Lives of our Lives", and won the Small Brewing Company of the Year and Small Brewing Company Brewer of the Year at the Great American Beer Festival in Denver, Colorado.