Campaign Launched to Keep Overtime Threshold
NYFB Director of Communications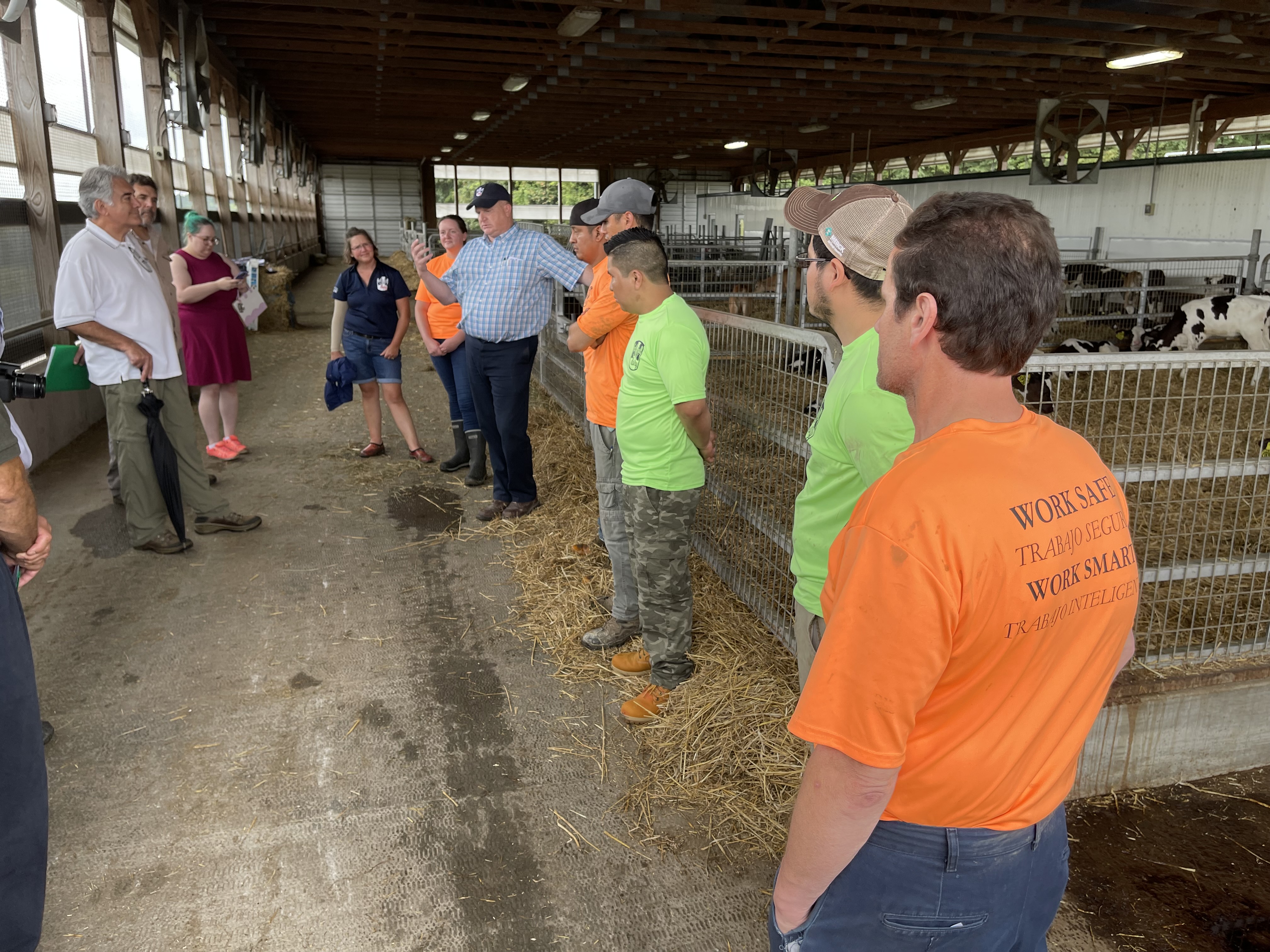 New York Farm Bureau joined with its partners all across agriculture in August to launch the new Grow NY Farms coalition campaign. The effort is to highlight the workability of the 60-hour overtime threshold and how anything lower will be unsustainable for farmers, will hurt employees' abil­ity to earn a good living, and will neg­atively impact the local food supply and agricultural economies.
NYFB's partners include the North­east Dairy Producers Association, NYS Vegetable Growers Association, NY Apple Association and many more supporters, including farmers, farmworkers, agribusinesses, and county Farm Bureaus. In 2019, the same coalition came together to ad­vocate on behalf of farms and farm­workers as the New York State Leg­islature considered, and passed, the Farm Laborers Fair Labor Practices Act that established a number of new labor regulations including overtime, collective bargaining, and a weekly day of rest.
Half Full Dairy in Elbridge, NY host­ed the first event on Aug. 18 that in­cluded a tour, roundtable discussion and press conference. Assembly-members Al Stirpe, John Lemondes and Brian Manktelow representing portions of the Syracuse and Auburn areas attended to discuss the farm labor issue along with a staff mem­ber from Assemblymember Bill Mag­narelli's office. The Wormuth family who owns the dairy was joined by five of their employees.
"I can't emphasize enough how im­portant these guys are to our organi­zation," said AJ Wormuth, of Half Full Dairy. "We should support the em­ployees who want to work."
His employees who have risen through the ranks to have leadership positions on the farm spoke about the need to work the hours they want to benefit and support their families. They fear the farm will be forced to reduce hours and pay to control labor costs should the overtime threshold be lowered by the New York State De­partment of Labor Wage Board that will meet again later this year. Last De­cember, the wage board, that includes NYFB President David Fisher along with representatives from DOL and the AFL-CIO, voted to delay a decision for a year.
"We have to make so much money for our families. I have a three-year-old daughter," said one employee of Half Full Dairy. "I like working at the farm." Other farmers who participated in­cluded fruit and vegetable farmer Tony Emmi, and dairy farmers Marcus Richards and Jeremy Brown, all NYFB members. They too discussed the im­pacts of a lower overtime threshold with the lawmakers.
"There are people on our farms that make more money than would else­where. When this overtime threshold changes, it moves up the bottom line and will eliminate these jobs, not im­prove them," said Richards.
"We are not against overtime, but you have to be able to afford it. We can only take in what our customers are willing to pay," said Emmi.
Emmi said his farm contingency plan is to downsize and perhaps sell prop­erty to developers should the thresh­old drop. He said it was becoming in­creasingly difficult to compete against lower cost products from farms in Canada as well as surrounding states, especially when they try and sell in the Boston and New York City markets.
"I had a buyer complain that New York is the most expensive state to do their home-grown tomato program. He asked why we couldn't be more like Arkansas," said Emmi.
Jeremy Brown of Twin Birch Dairy reiterated how we saw how fragile the food system was in the pandemic. Lower costs drive the market and when there were disruptions, it led to empty shelves. Millions of pounds of farm products were redirected to communities in need through pro­grams like Nourish NY, but that food access could be in jeopardy as well.
"There are chinks in the armor that's been exposed and hinders the success of local farms," he said. "We are speak­ing out of both sides of our mouths if we say rah-rah for local farms but not making it more affordable to do busi­ness in this state. Soon, local will be from Pennsylvania."
"This buy local movement will be cut off at the knees if there is no local product to support it," said Richards.
He added that he knew of farms that have decided not to expand in New York because of the higher labor costs and taxes. They are seeking to do that out of state.
"As it is going now, I don't see my daughters farming in New York," said Richards.
The Grow NY Farms coalition plans to hold additional tours and events along with a digital campaign to high­light the issue for farms, farmworkers and the state's food supply.
Photo caption: AJ Wormuth of Half Full Dairy, center, speaks to NYS Assembly Members on Aug. 18 during a tour of his Elbridge, NY farm. His employees also spoke at the Grow NY Farms' kickoff event.