Commodity Report: A Tough Time for U-Pick Farms
By Lindsay Wickham, Brooks Brown and Tim Bigham
NYFB Staff
Here we are, over halfway through 2021 already. That also means we are unofficially halfway through the U-Pick fruit season across the State. Cherries and most of our berries are done, while we have set our sights on our late summer/fall fruits like apples and grapes. We reached out to a smattering of growers across the state to get their take on the season so far, and to look forward to what is still to come. At Apple Hills, just outside of Binghamton, Broome County, U-Pick is a way of life, as they gave up wholesale years ago. The farm strictly rely on visitors to the farm for their various seasons, agritourism events, and the café and store. Apple Hills has raspberries, blueberries, sunflowers and apples for U-Pick.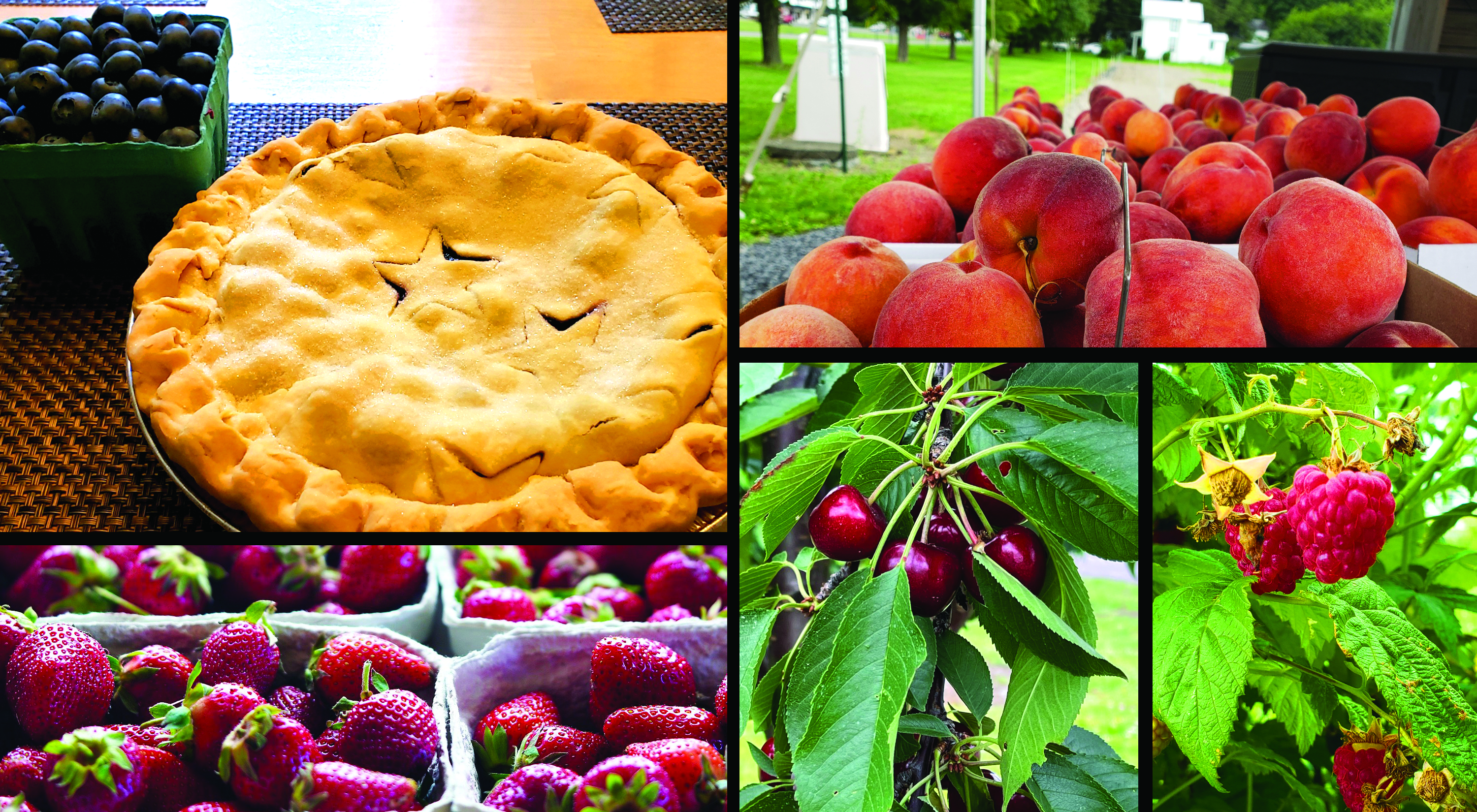 They did offer strawberries, but what seems like more than a few growers, at least across the Southern Tier, gave them up for 2021 (or in recent years). Owner/farmer Dave Johnson tells us that with his marginal soils affecting quality, the increased labor required (hard to come by), barely a profit margin and not wanting to deal with the new Food Safety Modernization Act (FSMA) regulations and requirements it was a no-brainer.
Combine that with a few retirements across the area, and I would say we have lost a significant number of strawberry growers.
2021: A More Challenging Year
2020 was a record year for visitors and U-Pick at Apple Hills, as a combination of a good crop and folks wanting to get out of the house during COVID led to big crowds. U-picking was as safe of a venture as anything else with it being outdoor and social distancing was relatively easy. This year, so far, has been a little more challenging, though a decent year so far. Rain seemingly every other day, consumers that have less reasons to get out of the house to visit a safe place such as a farm as there are more options now that the state has opened up more, and a stronger food supply in the grocery stores, visitor numbers have seen a decline though luckily not in droves. This is a theme that seemed to play out with every farm I spoke with.
Winter Damage
At Gary's Berries, just across the border in nearby Endicott, Tioga County, owner/farmer Gary Phelps offered similar sentiments. Being strictly a blueberry farm, they have a very short window and season to make ends meet. Gary did comment that crowd numbers and enthusiasm were down a little this year compared to last, but his main problem was winter damage that reduced his crop in half. You see, his farm was basically at the epicenter of the four-foot snowstorm that literally blanketed the area in December. This forced the local deer out of the hills and down to the river flats, who then proceeded to eat about 50% of his fruiting buds. If it is not one thing… Luckily for Gary, labor has not been an issue as he relies on a large family presence. Unfortunately, his season was cut in half due to the crop loss.
For Fred Wickham, owner/farmer of Wickham's Tango Oaks Farm in Hector, Schuyler County, it seems that every year is a challenge, growing peaches, cherries, grapes, and a few apples and pears. Winter damage is relatively common, and 2021 was no different, hitting his sweet and sour cherries, the main U-Pick option on the farm. Being one of the largest U-Pick cherry orchards in the Finger Lakes with around 14 acres total, it is relatively easy to see the trends in crowds. 2020 was a banner year for cherries, with big crowds and lots of fruit. 2021 saw a loss of almost 100% of sours and 50% of sweets due to winter damage. Even with decent picking the first week, crowds were down over half of usual. This was with two of the five cherry orchards in the neighborhood not even opening this year.
Labor and Regulations
Fred also had labor and FSMA issues that are worth noting. On the labor front, luckily family and friends fill in for U-Pick duty, but when it came to filling a wholesale order for a local brewery, his usual migrant crew had been reduced from 24 to four with a roofing contractor stealing away the majority.
He was then up against a few dozen other farms for their services. It happened, but only after some begging and pleading. As to FSMA, his grapes were exempt due to being made into wine.
His tree fruit was also exempt due to going directly to the consumer. Unfortunately, combined, they were now not exempt, and he is facing many more rules and regs. After their FSMA inspection, later this month, decisions will be made as to the future of tree fruit on the farm and U-Pick to see if it is worth the hassle. This is from a farm where grapes are the primary crop and gross income is less than $150,000.
A Change in Clientele
At Mangus Farms in Burdett, Schuyler County, things just keep moving ahead on their berry farm, which includes red and black raspberries, blueberries and strawberries. Mangus is what I like to call in our area an "urban" farm, as they are located within the boundaries of the quaint village of Burdett, population of around 400. They also offer coffee and freshly-made pastries and pies using their fruit. Owner Cathy Mangus says this all adds to everyone having their own experience and helps build the "regulars" and draw in first-timers. Like the other farms, 2020 was a great year, with a big crop and crowds. 2021 has seen and equally large crop, but pickers are a little lighter for sure. For blueberries, weather was no doubt part of that equation, but that excuse wasn't there for strawberries. Co-owner Robert Mangus spoke about the great blueberry crop and the need to get more pickers to the farm. Combining family with a small farm, labor has not been an issue.
When COVID was raging last year, things were generally fantastic for farms, who offered a destination a nd safe haven to get out and about when there were few options, pick some of your own food when there were shortages in some locales, and enjoy that experience of being on a farm.

Another common thread amongst all the growers was the differences in today's u-picker and those of days gone by. Back in the day, many people were picking in much larger quantities to go home and can and/or freeze their products for future use throughout the year. Today, the vast majority of pickers come for the experience and to show their kids what they remember about their youth when the were picking those larger quantities with their parents or grandparents. It is much more of a novelty than a way of life.
Just like every other sector of agriculture,U-Pick operations will need to continuously adapt and change to the new consumer. Every year, more and more people show up and ask if there are any fruit already picked. Our society, for the most part, is all about the convenience and ease. Rules and regulations continue to be promulgated by our governments. Weather will always play a role. One thing is for sure, U-Picks will always be a part of equation, though will it be on a smaller scale with more operations, or on a larger scale with fewer ones? Only time, the consumer, and the government will tell us that.
Other Parts of the State
In other parts of the state, farmers have mixed reports on the their success at the half-year mark.
In Ulster County, Chris Kelder, owner of Kelder's Farms and NYFB State Director, said, "It has been a little challenging with the rainy weekends. It's a fair weather business and it's been a little challenging farming wise. It was dry early, but July has been as wet as I can remember. Low spots in our fields don't look good, but most of our crops are fine. We did have to stay up to date on fungicides. We are very fortunate that farm is well drained."
In Rensselaer County, Steve Bieler of Best Berry Farm said, "Strawberry season started out fantastic and then went downhill. Since June 29, we're over 14 inches of rain. The strawberry plants are crying for fungicide and I can't get across the field to apply it."
Jake Samascott of Samascott Orchards in Columbia County said, "After last year's great U-Pick season we hoped some of that business would carry over to this year. A couple of rainy weekends can cause a whole U-Pick crop to be missed by our customers. Even with all the rain this year our customers seemed to have found a way to make it on the nice days."

"Our sweet cherry crop was cut short by the extensive rain. We usually get three weekends with good cherry picking. After the first week this year and about eight inches of rain almost every sweet cherry on the trees cracked," Samascott said.
Dan Childs is the owner Childs Blueberries in Cattaraugus County. He indicated that due to the COVID measures they enacted last year, "The entire operation was slowed down and complying was extremely labor intensive."
The customers they usually had come from Pittsburgh and Ohio had to navigate New York's quarantine rules and that prevented some of them from coming.
"We had out-of-state customers who enjoy the camaraderie of picking berries with friends and relatives show up just to get frozen berries that we picked last year. Now that's a dedicated customer!"
Childs Blueberry customers are looking forward to the fellowship of once again picking berries with loved ones. Dan and his wife Carrie are optimistic for a strong year again this year.