Cornell Maple Program at the Arnot Forest: Revisited One Year Later
County Farm Bureau Relations and Development Manager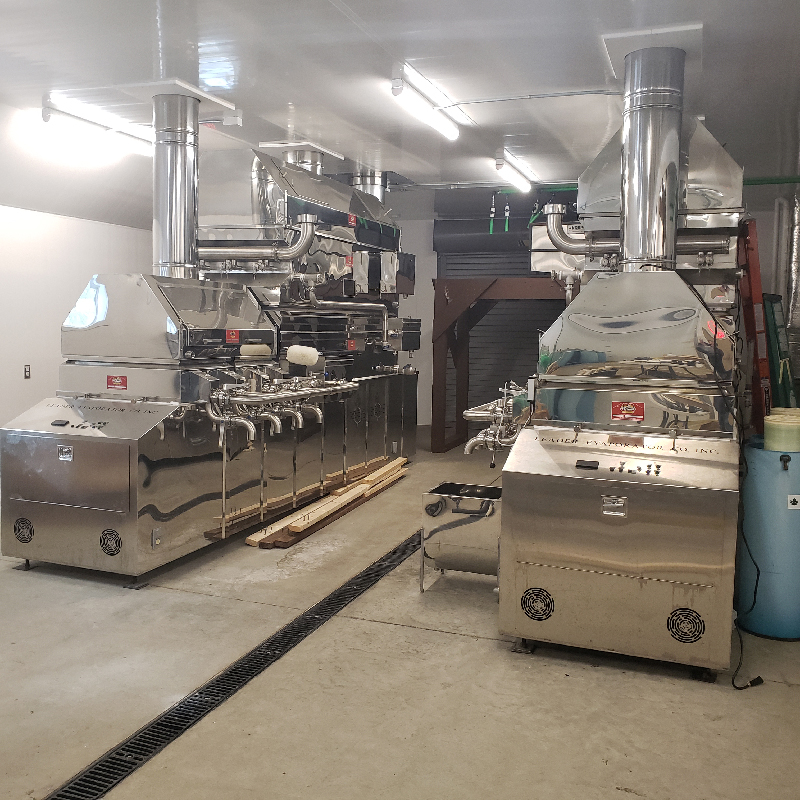 Knowing that maple was the commodity for our March issue of Grassroots, I immediately spoke up during our planning meeting and mentioned that I would like to revisit the Cornell Maple Program at the Arnot Forest, of which I had written a feature story for the March 2021 Grassroots. They had broken ground the previous year on a new state-of-the-art maple lab and would like to see how progress was coming with it. Besides, Cornell's maple program is, by far, the largest and most comprehensive full-time maple program in the country, and like many others, was heavily affected by COVID, in terms of number of taps, no maple weekend, and their educational outreach was severely hampered.

So, I sent an e-mail in mid-February to Aaron Wightman, Director of the Arnot Forest Maple Program, asking for an interview. Well, as I figured out quickly, it was like trying to get some time with the president during a world-wide crisis, or an L.A. Rams player on Super Bowl Sunday. In fact, his offer was to do the interview at 7 p.m. the Sunday night during the Super Bowl, as he was just tapped out on time (maple sap reference). We finally agreed to a 5 p.m. interview the following day. It was only then that I was able to get to the bottom of what was going on.

Aaron and I hooked up via a phone call that Monday afternoon and he was definitely much calmer and more light-hearted. He was then able to hit the highlights of why the craze, and I got it. You see, Aaron is a multi-talented person, who was not only in charge of tapping the 7,800 trees in the 4,200-acre Arnot Forest, but was also the electrician, plumber, and chief bottle-washer in the almost completed maple lab. Plus, he was behind on taping trees, only 2,000 at that point. Thankfully January into early February was cold and not very conducive to any sap run of note. We were then able to review the previous year and what a whirlwind it was for the program.

As mentioned, the previous year they had broken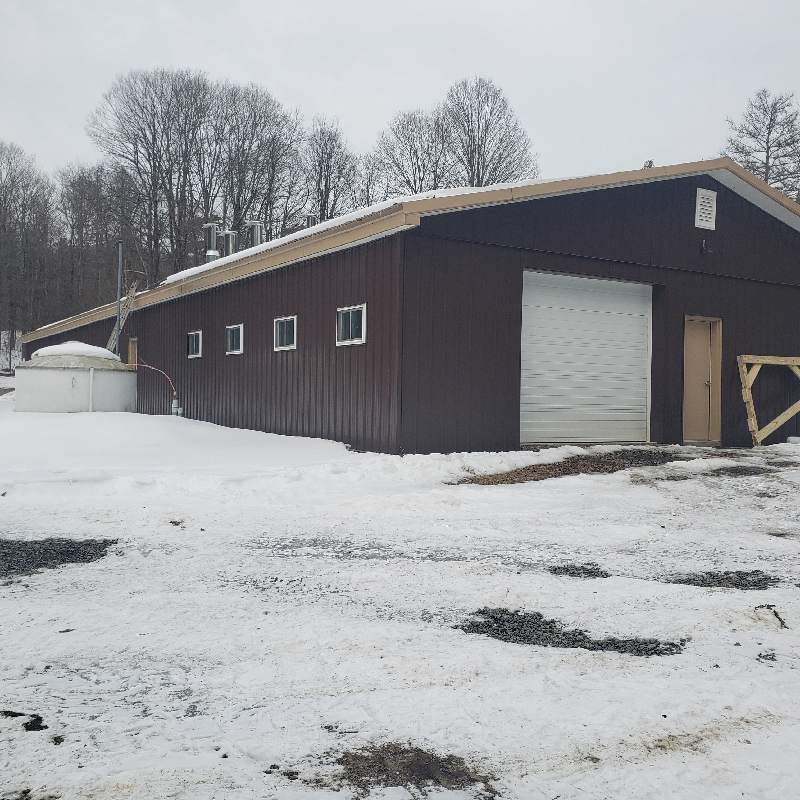 ground on their new lab and had the ribbon-cutting at the beginning of September for the building. Note that I said the building, not the facility or the lab. That left the winter to get the equipment in place, properly plumbed and electrified to be ready for the upcoming sap season. Throw in supply chain issues, labor shortages, COVID restrictions still, and just plain old real world delays, and here they were in February still working on getting things in place and operational. Smartly, Aaron had prioritized the things he needed to at least collect sap for the trees he did have tapped so the process could begin.

The new 4,200 square foot building is fairly non-descript outside of its beautiful setting, surrounded on four sides by the Arnot Forest. But, once you get inside, then you see all the new shiny things that make up a working sap line and maple production equipment that really opens your eyes. This upgrade was long overdue, as the previous sugar shack/saphouse, built in 1957 was less than 1,000 square feet, was unheated, had rough unfinished floors, and no bathroom (egads!).

The new building has a 20C commercial kitchen, two identical production lines (so they can run simultaneous trials during any given run), and a bathroom, all in a comfortable and heated environment. The facility has a capacity of around 20,000 gallons from 16,000 taps, so there is room for growth. It is the first of its kind in the country and definitely a source of pride for the staff, Cornell, and all of New York.

Perhaps the main purpose of this new facility is to keep Cornell at the forefront of new maple products development and alternative uses of sap and syrup as a sweetener or additive, as well as an educational tool for the many producers across the state, nation and the world. Back in August, Cornell was able to hire Catherine Belisle, a product development food scientist. Aaron tells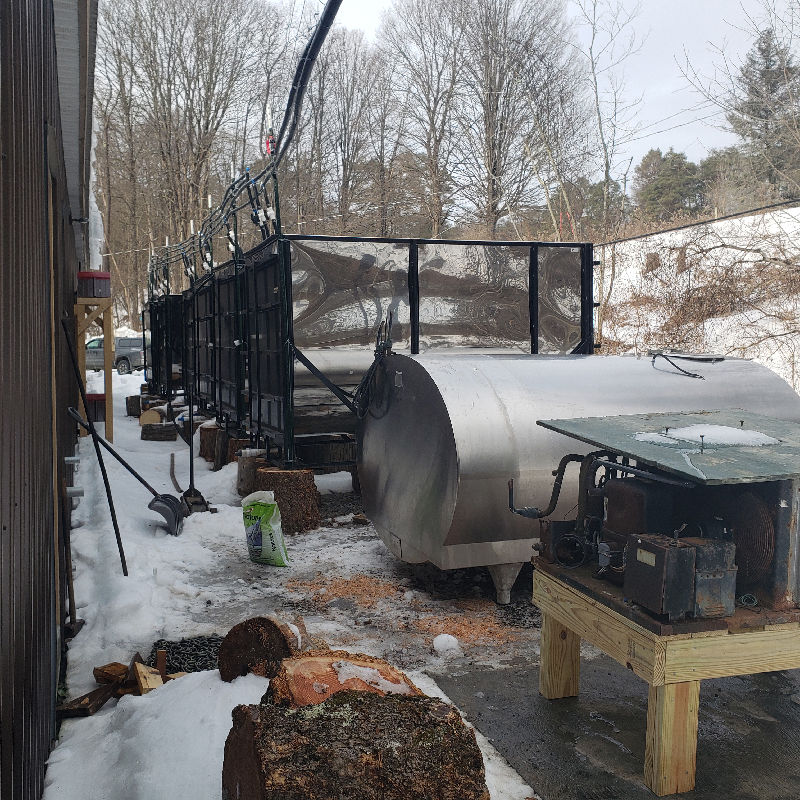 me that she hit the ground running and is going great guns, all with the help of veteran technician Ailis Clyne, who was hand-labeling those little boutique maple syrup bottles during my visit. The current crop of new products includes a shelf-stable maple marshmallow, a maple electrolyte sports drink and sports gel (concentrated single-serve for endurance athletics), and a maple brandy. They also continue their work on perfecting maple beer, wine, soda, kombucha, maple chocolate amongst others.

As to the education piece, the program has gotten back to a few of their highly popular on-the-road "maple school" programs across the state with decent results in attendance, though not at pre-pandemic levels yet. They did have a successful in-person winter meeting, after two years virtual, with 350 folks in attendance in Syracuse, also down from the usual 1,000 plus, but with all the restrictions, a big win for the industry.

Still going, and growing, is their podcast "Sweet Talk: All Things Maple". The program also keeps expanding the information through their maple calculator, which is a computer program that helps anybody from a few to thousands of taps calculate input and output costs, equipment specs and needs, land area, it seems to do it all. Their website is a plethora of information and resources for not only the industry but for anybody that has an interest or doing research for, say, a Grassroots article.

As we approach the post-pandemic world and a somewhat return to normalcy, we are all reflecting on what is important and what can we use out of the experience to move forward with more efficiency and prioritization The Cornell Maple Program is no different and one of the casualties for them was their beloved Maple Weekend events. They have pretty much made up their minds to discontinue it on-site. They have leased the land where the old lodge and multiple bunk cabins sit to Tompkins County.

As Aaron put it, their top two priorities are new product development and quality improvement for those products, including syrup. He also pointed out that why would they want to compete for folks with the many maple syrup operations in the area, especially this year when folks will be hopefully emerging from their COVID hibernation.

For now, Aaron and his team at the Cornell Maple Program will focus on their many research projects to help the industry to keep moving forward. Their research on tapping, timing, tube and vacuum size and pressure, sanitization, adding dissolve oxygen for flavor and grade improvement (amongst many) are invaluable to the industry. The addition of the new lab and new folks like Catherine make all that possible and help quicken the pace and expand the possibilities. The "sap farms", as Aaron calls them, can all feel fortunate that they have folks like Aaron and his team beside them for that support and innovation that all industries need, but some never get to have.
Captions : (top) The shiny new twin evaporators that allow Cornell to run simultaneous experiments. (middle) The Cornell Maple Lab at the Arnot Forest.
(bottom) The 20,000 gallon storage area for the new lab.