Beyond Breakfast: Explore Maple's Potential
By Lindsay Wickham
Senior Field Advisor
As most of you know, maple syrup production is big business in the state. New York ranks second in the United States, only behind Vermont, in production, making over 300,000 gallons per year. If you are an active participant in the New York maple industry, the Cornell Maple Program (CMP) is the go-to institution for information. Cornell is one of just two full-time maple programs in the country (the University of Vermont being the other). That being said, Cornell's program is a fair bit larger. A little "hometown" pride there.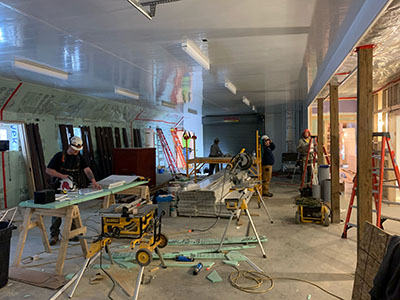 The Cornell program has the benefit of having two research forests, Uihlein located just outside Lake Placid (Essex County) and Arnot Forest near Ithaca (Schuyler County). This gives Cornell the opportunity to have two distinctly different forest-types as well as two different climates, reflecting the diversity in the state. Co-Director of the program Aaron Wightman operates out of the Arnot Forest which covers around 4,200 acres and they currently tap around 7,600 trees for maple sap collection, up from just 2,000 taps five years ago. That equates to around 50 miles of collection tubing! Aaron took some time out of his day to walk me around and chat.

Before I met with Aaron, he had me watch the first two episodes of their new maple podcast, "Sweet Talk: All Things Maple" (a new way to get out information). Out of that, I was able to get a mission statement that really says what CMP is all about: The Cornell Maple Program is a research and extension program that provides assistance and education for people all across the maple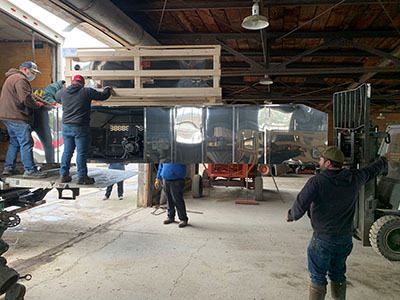 industry through innovative research results; To sustainably grow the industry; and, to transfer that knowledge to maple producers.

As with everyone else, COVID-19 has had its effect on the program as well as the maple producers. Education-wise, all their road shows where they visit and do seminars at a producer's sugar bush were cancelled, as were their very popular seminars for beginners. Like everyone else, they did turn to virtual meetings but only held about a quarter of what they usually do. The state-wide winter meeting typically held in Syracuse in early January was also cancelled. There were zero value-added product talks and demonstrations. And the biggest hurt for all of us, the cancellation of the 2021 Maple Weekend, though individual producers who feel they have the space and can follow local and state regulations surrounding COVID may open for visitors. Check the NYS Maple Producers Association website for updates.

At the Arnot Forest, Aaron and his team are always looking at the big picture of production by doing very pointed research that will help push the industry forward through sustainability, innovation, efficiency, and diversification. With climate change pushed to the forefront over the last decade-plus any ways (and seemingly more every year), these factors have taken a little bit of a change and have all become intertwined with each other more than ever. As Aaron points out, you can pull innovation out of that list and apply it to each of the other three, as innovation is a necessity in all aspects to accomplish the end goal of a sustainable, flourishing industry. Plus, the industry is helping manage and preserving vast acreages of forest throughout the state. To keep this end-goal always in sight, there are many initiatives moving forward.

With the benefit of having such a large research plot is their ability to do research on a much larger scale and give producers results that are much more aligned with commercial sized realities. Thus, the need for better facilities (have you been to the Arnot over the last 20 years?). Cornell is in the process of building the new and much needed Arnot Maple Lab, which should be online very soon. This state-of-the-art facility will have a 20C commercial kitchen and two identical production lines, so they can run different trials at the same time, reducing many variables and bring their research into the 21st century.

Besides the main product of maple syrup (what the industry calls "pancake syrup") there is a big push for new value-added products and alternate uses of maple sap. With maple's natural sugars, can it be an alternative to traditional refined sugar or even high fructose corn syrup? It is much more natural and requires much less processing which means much less energy needed (getting the picture?). Maple syrup or sap has been used for years on a home level as an alternate sweetener (coffee, oatmeal, etc.).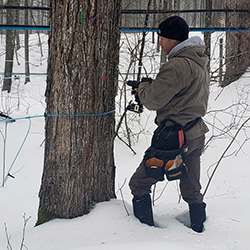 CMP is looking if that can work on a commercial scale. Some of the products they are looking at include maple chocolate, maple soda, maple wine and beer, maple sports gel, and maple kombucha. A very wide variety of food, beverage and health care products. And look mom, no added sugar!

In the field and in the sugar house, there is also much work being done for the sustainability and efficiency of maple sap production. One effect of climate change has been a lengthening of the more natural season which used to between six and eight weeks in March and April. You now can throw in January and February, though that creates its own set of problems with keeping taps and lines open and sufficiently sanitized. Research is being done on tubing size and layout, vacuum pressure, sanitization and the overall engineering of these systems. They are also looking into fall production after leaf-fall to possibly extend the season even more. After that three-year trial, they are actually going to "autopsy" a half a dozen trees to see what physiological affects that may have. How cool is that?

Once again, back to the big picture and one of the real important points they are looking into: What else can they grow in the woods that can work alongside and compliment maple sap production to make this more of a full-time venture and thus make the industry more sustainable versus a part-time job that can quickly go by the wayside because of the work and time involved with managing a good sugar bush? And again, this will also help with the preservation of some of our forestland.

Maple sap production has always been looked at as a cottage industry and obviously very specialized. Typically, it has been a part-time venture and for many a hobby with benefits (syrup and a little cash). One thing we do know is that real maple syrup is beloved by its followers followers who prefer it over more common sweeteners like high fructose corn syrup. With the local food movement gaining traction and growing fast and everyone wanting to know where their food comes from, the Cornell Maple Program has definitely evolved and focused their work to grow the industry to be a much bigger player than just pancake syrup and to grow with that movement. Aaron describes the maple industry as charismatic, and thankfully that charisma has the attention of Cornell University, our politicians, and some other good sources of money, because the possibilities are endless for maple sap and future uses and products. And it has all the buzz words: sustainability, natural, carbon sink, good for the environment and the planet.
Captions from top to bottom:
1.) Workers are installing washable wall panels to create a modern, food safe environment in the future evaporator room in the new sugarhouse at Arnot Forest.
2.) One of two new evaporators was recently delivered to the new Arnot Maple Lab. Other new equipment includes two reverse osmosis units, a 200 cfm vacuum pump, six 2,000 gallon storage tanks and a refrigerated bulk tank.
3.) Aaron Wightman, Co-Director of the Cornell Maple Program tapping a sugar maple in the Arnot Forest in Schuyler County.