COVID-19 Latest
The Latest from Gov. Cuomo's Daily Briefings on COVID-19*
Data
152 new COVID cases as of yesterday

67 deaths yesterday (46 in hospitals, 21 in nursing homes)
Reopening
New York was hit the hardest, but we're reopening smarter.

Governor says NYS is testing more than other states and must continue to test and trace.

A new dashboard is available showing the severity of the virus, measures being taken in each region, and other information.

Five regions will now begin entering Phase 2

All office-based jobs:

Professional services

Administrative support

Information Technology

Retail

In-store shopping

Rental, repair, and cleaning

Barbershops and hair salons (limited services)

Motor vehicle leasing, rental, and sales

Real estate services

Building and property management

Leasing, rental, and sales services

In response to a comment regarding a delay to the Governor's announcement, he stated that he wanted to be able to have information provided by experts.

Restaurants are being reviewed to determine if outdoor dining is the same as a restaurant.

The Governor continued, noting that outdoor dining in NYC is different from outdoor dining in Albany.

NYC is on track to meet reopening metrics by June 8

Must work on the following:

Hospital capacity remains below 70% and establishing PPE stockpile

Testing/contact tracing being

MTA preparing for reopening

Focusing on hotspots by ZIP code

400,000 NYC workers will be returning to work in Phase 1
*Courtesy of Statewatch
Save the Date for House Ag. Committee Town Hall
New York Farm Bureau will host the three New York Congressional Representatives on the U.S. House of Agriculture Committee this Wednesday, June 3 from 7-8 p.m. Reps. Brindisi, Delgado, and Maloney will take questions from NYFB members about the federal response to COVID-19. Please watch for more information next week to join the Zoom event. If you would like to pre-submit a question, please email at info@nyfb.org.
Interim Guidance for Local Agricultural Demonstrations and Exhibitions
New York State Department of Agriculture and Markets has released interim guidance for local agricultural demonstrations and exhibitions. Phase 1 reopening does include local agricultural demonstrations and exhibitions. This document gives guidance on what demonstrations and exhibitions are permitted and what guidance needs to be followed. Click here to see this guidance.
Best Management Practices for Equine Operations
Cornell Cooperative Extension has released a document with best management practices (BMPs) for equine operations. These BMPs are suggestions for equine farms to protect public health. Click here to view this document. These BMPs do not replace the Interim Guidance for Non-Food Related Agriculture Activities during the COVID-19 Public Health Emergency and equine farms must follow the guidance from New York State.
Reviewing the CFAP Payment Formula for Non-Specialty Crops
The American Farm Bureau Federation (AFBF) has put together a review of the USDA's Coronavirus Food Assistance Program (CFAP) and the implications of the program and pricing formula for non-specialty crops. For non-specialty crops, e.g., malting barley, canola, corn, upland cotton, millet, oats, soybeans, sorghum, sunflowers, durum wheat and hard red spring wheat, payments will be attached to actual 2019 production and will be paid based on inventory subject to price risk as of Jan. 15, 2020.
To read the article from AFBF and learn more about the payment formula and implications for non-specialty crop growers under CFAP, click here. For more information regarding CFAP, click here.
USDA Seeks Information on Additional Commodities for CFAP Coverage, Requests Comments
USDA will consider additional commodities to be eligible for CFAP by collecting information on potentially eligible commodities. Producers of commodities not included on the original CFAP list who believe they've suffered a 5% or greater price decline between January and April 2020, and who face additional marketing costs due to COVID-19, may submit comments to provide information about additional commodities.
USDA is particularly interested in the obtaining information with respect to the following specific categories of agricultural commodities:
Nursery Products

Aquaculture Products

Cut Flowers
Producers are encouraged to submit comments to USDA if their commodity was not originally covered under CFAP and explain the impact that COVID-19 has had on your commodity. A copy of USDA request for more information can be found here.
Cornell Craft Beverage Webinar on June 2
Serving craft and farm-based beverages in tasting rooms has long been an important element of the farm, food and agritourism industries of New York state. As tasting rooms reopen during the COVID-19 pandemic, observing safety guidelines will be critical to their success and the health of both employees and customers. The Cornell Craft Beverage has developed several proactive steps to protect craft beverage teams, customers and the longstanding reputation of local craft beverage operations during the pandemic and beyond. In its webinar on June 2 from 1 p.m. to 2:30 p.m., the Cornell Craft Beverage Institute will guide craft beverage producers on how to best implement these steps. Click here for more info and to register.
AFBF Releases White Paper on Minimum Negotiated Trade in Cattle Markets, Provides Useful Background Info
American Farm Bureau Federation (AFBF) staff has developed a document that provides useful background information and discussion around minimum negotiated trade in the cattle markets. A copy of the document can be found here.
New York Farm Bureau has prepared daily alerts for its members since the onset of the pandemic. Our re-designed COVID-19 Resources page includes that information in a searchable format and includes guidance and resources from our agriculture partners, safety guidance, and financial and insurance assistance resources.
NYFB's members-only website includes Fact Sheets on Unemployment Insurance in New York Under the CARES Act, New York's New Emergency Paid Sick Leave During COVID, and Federal Emergency Paid Leave During COVID.
NYFB has created a Farmworker Relief Program, a database whereby a farmworker seeking work can complete a form to be included in the database, and a farmer seeking workers can use the database as a recruiting resource.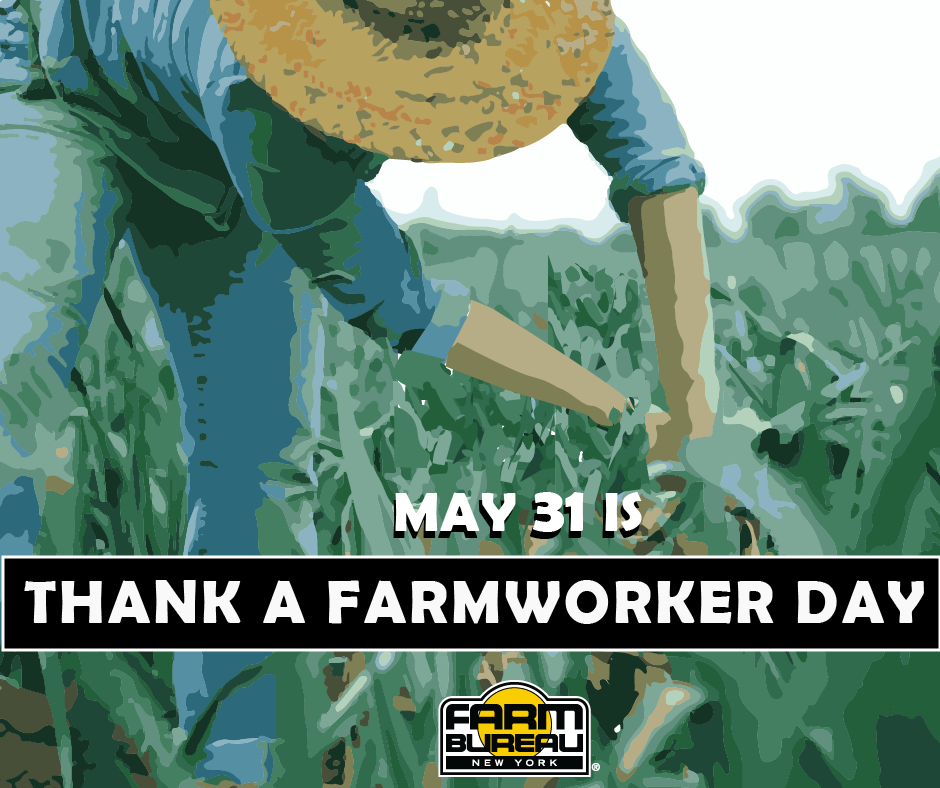 Take part in "Thank a Farmworker Day" on Sunday, May 31!
COVID-19 has reinforced how important our local farms are to food security. These days front line workers include the invaluable efforts of farm employees. They are essential in producing food, raising crops and caring for animals. Let's show our appreciation on Sunday, May 31. Organizations across the state will be celebrating farmworkers, and New York Farm Bureau is encouraging our members to join in this effort.
How can you say thanks? Here are some ideas.
• Hang a sign on your farm entrance thanking your employees.
• Post a thank you sign in their break room or work area.
• Hand out individual wrapped lunches (no buffets or pizza grabs during social distancing).
• Purchase gift cards from local businesses to pass out to your employees.
• Provide cheese, bag of apples or other NY farm products.
• Take a moment to personally speak with each worker and thank them for what they do.
• Stock their fridge with their favorite flavored milk or ice cream.
• Share what they mean to your farm on social media. Use the hashtag
People like to be appreciated. You know your employees best. Even the smallest gesture can make a difference and make for a happier workplace. Share what they mean to your farm on social media. Use the hashtag #ThankAFarmworker
____________________________________________________________________________
NY FarmNet is Open
Please keep these numbers and websites available to call or share should you, a family member or friends need someone to speak with in these uncertain times. Support is available at 1-800-547-3276 and www.nyfarmnet.org.
National Suicide Prevention Lifeline
1-800-273-8255 (TALK), www.suicidepreventionlifeline.org
Crisis Text Line Text
"GOT 5" to 741-741, www.crisistextline.org
___________________________________________________________________________