Depsite COVID-19, The Local Meat Movement Marches On
by Lindsay Wickham
Well before we had ever heard of COVID-19 or Coronav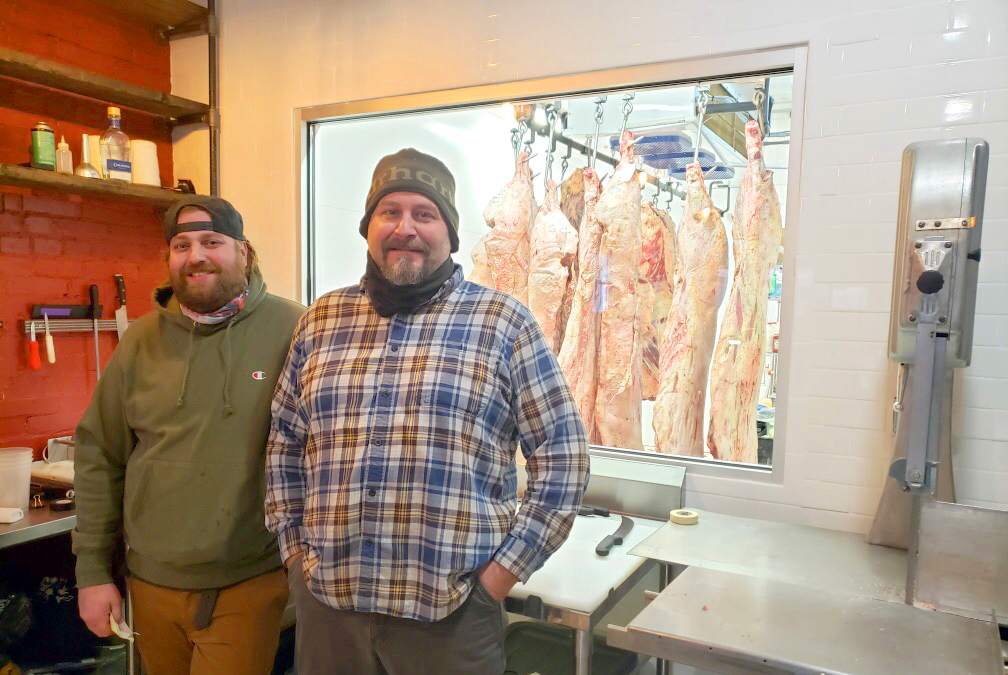 irus, a resurgence, a movement even, was happening as people were getting back to purchasing and eating locally produced foods. This harkened back to the days when there were no big box stores, and everybody bought their food from the local farmer, the butcher, or their grocery store that featured fruits and vegetables that were produced at least regionally. That was probably 50 years ago, if not more. Though not a huge movement amongst the masses, it was very significant for small, local farms and the folks that yearned for quality fresh products and who wanted to know where their food came from.
Many factors played into this local food movement. The idea to stem the loss of small farms, people paying attention to their health and getting away from pre-packaged/processed foods, folks "returning to their roots" and buying local and fresh, and many folks who had left a farm or were a generation removed from a farm wanting to keep the legacy alive and grow something, were a few of the reasons. Whatever the reason, the movement was on and there were a lot of new self-proclaimed "locavores", defined as a person whose diet consists only or principally of locally grown or produced food.
Locavore Movement
One aspect of the locavore movement that has really garnered a lot of attention during the COVID-19 pandemic has been the local meat industry. With COVID forcing many of the big meat processing plants to shut down in the beginning, suddenly, we were facing a meat shortage in the stores. For us carnivores out there, this was a big wake-up call as to the reliability of our supply of meat. We were now seeking new sources for our preferred source of protein, and our local producers and meat shops were thrust into the spotlight seemingly overnight.
The national meat industry suddenly was facing a huge supply chain issue, while the local meat industry was chugging along as it always had. Though the local meat industry was doing quite well on its own pre-pandemic, it was still fairly underused by the masses. Some of the supposed reasoning behind this were the perception or misperception of lack of convenience, being over-priced, and my favorite, the meat was not as pretty (as in it was not enhanced to keep that fresh look in the store over a few days or a week's time).

Step forward to today, and the demand for local meat has skyrocketed to an extent not seen in decades. To meet that demand, current producers are expanding, and new growers are emerging from the woodwork (a lot of ex-dairy farmers). It sounds so simple. The demand is there, thus let's expand the supply to meet that demand. Everybody is happy, making money, eating an endless supply of meat. Screech (sound of braking), hold the phone, stop the bus, we have a problem Houston.
Limited Processing Capacity
If it were that simple, everybody would do it. We would end up with a glut of meat, low prices, and many unhappy farmers. The only happy folks would be the consumers. We are forgetting about one very important aspect of this whole equation, meat processing. Unless you are selling your meat in halves or wholes, anybody who has tried to get an animal processed at a USDA facility over the last few years to, knows the drill of having to book out sometimes a year or more in advance.
Talking with Brett Chedzoy, owner of Angus Glen Farm in Watkins Glen (an AWA/Animal Welfare Approved facility), a prominent beef grower, and an ag and forestry specialist for Schuyler CCE, he points out the good and the bad with the increased demands created by the pandemic.

"Initially the pandemic panic threw a wrench in to the marketing of our spring stockers at the worst possible time. But the panic was short-lived as many of our buyers soon experienced a surge in demand for locally raised beef. We went from worrying about not being able to sell enough animals to worrying about selling too many animals in less than 6 weeks' time. Nonetheless, to reduce risk to our buyers, we sold most of our spring stockers at lower prices than we normally would have. Demand has certainly increased, but it has been held in check partially by limited processing capacity well in to 2021. All livestock farmers are facing a scarcity of processing capacity into the foreseeable future". Most of Chedzoy's animals need the USDA stamp, but he does sell some locally as wholes, halves, or quarters, where the processing wait is not nearly as long.
Custom Cuts
On the other end of the spectrum, there is Kyle and Lauren Van Galder, of Van Galder Family Farm, who are in the process of opening their own processing plant in southern Schuyler County for doing custom meat cutting. Van Galder, a deputy sheriff/school resource officer by day, started the process of opening his shop about a year ago (really five years ago, but three new kids over that span put it off) and has seen the effect of the pandemic has had before he is even officially open. It also added some urgency to that goal. Combining their deer processing business, which has been a great learning experience, and many years helping out a local meat cutter who passed away, they see, hear and feel the need to get this going. Between the deer business and people lining up for his services when he does open very soon, the Van Galders are very bullish on the future. So much so that Lauren has given up her day job to raise the kids and work three days a week for the family business. Business has quadrupled, allowing them to put money back into his facilities to upgrade to a custom operation that will handle mostly beef and pork to start with. Their biggest issue is the red tape between Ag and Markets and the USDA, as they also want to make and sell specialty meat products. This has tempered their thoughts about eventually becoming a much-needed USDA meat processing plant, but as he says, you never know.
Then we have the tale of Aaron and Kerry Moultrup, of Fieldstone Acres in Campbell, Steuben County. The Moultrup's have an AWA herd of registered Wye Angus beef cattle (you look it up, but worth it). After years of going through what other beef growers were, primarily dealing with the processing aspect, their phone ringing off the hook during the pandemic with people wanting meat, and after a chance meeting with Cameron Matthews, the son of a local butcher and culinary school graduate, they decided to partner up and start their own butcher shop, aptly named the Butcher's Son, located on the famed Market Street in Corning. This gave the Moultrup's the ability to have an instant market for their beef and to allow Cameron to practice his trade. They are working with several local farms in both the Southern Tier of New York and the Northern Tier of Pennsylvania to supplement their beef with pork, and a few other meats.
Booked through 2022
Being that Butcher's Son was cutting up whole animals, their only need was to find kill floor access at a USDA facility, which turned out to be relatively easy. Working with Reed Brook Custom Meat Processing in Waverly and Sylvester Quality Meats in Westifeld, Pa., a great partnership was formed. It was a quick buck for the facilities, and the butcher shop got what they needed. Just to make sure that the butcher shop was set and showing the demand for USDA facilities even just to kill, they have booked out kill dates through the end of 2022! It has also forced the farms into "rotational finishing" of their animals, so they had a steady supply year-round.

Since Butcher's Son's opening on Dec. 1, business has been more than booming. I was there midafternoon on a Tuesday, and there was a steady stream of customers coming in to buy cuts of beef, pork and chicken or some of their specialty meats like different kinds of sausage. They also offer sandwiches and light fare to be eaten in-house, on their outdoor patio, or take-home. In addition, with all the interest and demand, Cameron is planning to start offering classes on meat cutting, pit mastery, using a smoker, and other related subjects. Congratulations to them for taking the bull by the horns, practically literally, definitely figuratively.

Farmers have been screaming for years about the lack of processing, especially at the USDA level. Working with the local economic development folks, it was discovered that we should have enough meat processing capacity out there. The real problem seemed to be the combination of the farmers wanting to finish their animals before winter and the two-and-a-half month deer season that fell at the same time, creating a huge glut of animals waiting to be processed during the same time of year. There is now a concerted effort to educate our growers to possibly try out "rotational finishing" if they have the capabilities and the facilities to do so. Also, as we have all seen as the pandemic has rolled on, there are several new custom meat processing plants starting up. USDA inspected facilities are another animal, excuse the pun, as they are generally more costly with a more red tape. That being said, USDA processing facilities are disappearing faster than new ones are opening, thus there is a need.
Hope on the Horizon
Now, there is a movement to get New York State to help with this issue. At the NYFB Annual Meeting in early December, delegates passed several new policy resolutions, including asking for help from Ag and Markets to possibly reestablish an in-state meat certification program, and to also allow out-of-state meat processing of New York animals to continue to be allowed under New York programs, reflecting the need for more processors. The State Legislature has convened meetings of multiple committees to address food issues, with meat being one of the hot-button items. There is hope on the horizon.

While talking with Brett Chedzoy about these prospects, he added, "In my opinion, locally raised meats don't need the extra costs and hassles of USDA inspection if being sold locally (say, within 100 miles of origin). USDA inspection is a safety measure that makes sense for an industrialized meat industry where livestock and meat may pass through many hands and hundreds or thousands of miles before reaching the consumer. At the local level, both the farmer and local processor have strong incentive and responsibility to ensure the safety of their product. If they don't, the folks that they sell directly to will lose confidence, stop buying, and the producer and processor will be out of business (problem solved)".

These sentiments were echoed by Kyle and Lauren Van Galder, as they really appreciate the personal bond between the farmer, the processor, and the consumer and one of the reasons they are pursuing their passion for this industry.
Silver Lining of COVID-19
The pandemic has truly shown the potential for locally-raised farm products, especially meats. There are so many great examples from all across New York State of farms and processors raising the bar, especially during the pandemic. Even though the local food movement was already growing, COVID-19 is helping push the accelerator a little harder. It has also shown us the need to strengthen the local food supply chains and really exposed weaknesses in the local meat supply system. We knew they were there but were struggling as to how to solve them. The pandemic has given us a little kick in the rear to get them fixed. COVID-19 has had many direct and indirect issues and costs associated with it that will take time to dig out from for most all of us, notwithstanding all the personal tragedies that families have had to bear. There is very little you can say positive about it other than it has shown us our weaknesses to be addressed, brought many of us closer to our loved ones, and awoke much of our society to the importance of our local farms and farmers. Let's keep that going.
Photo caption: Cameron Matthews, left, and Aaron Moultrup of Butcher's Son in Corning, NY.