History Shown Through Milk Bottle Display
By Nikole Watts
Chemung County Farm Bureau Pro-Ed
Chair and Board Member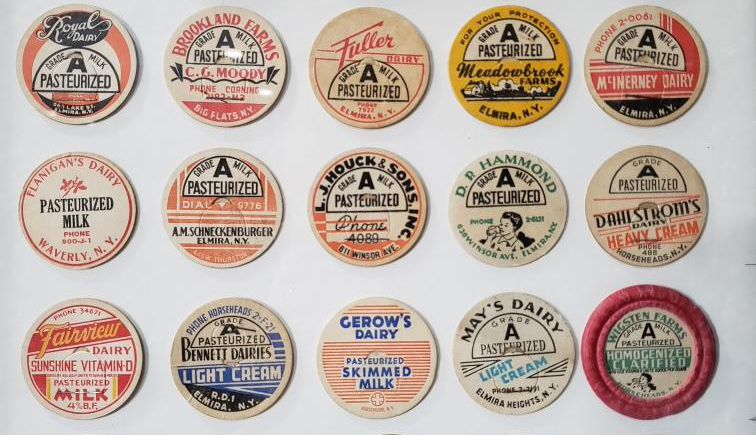 It all started in 1981 when Norris Bridgeman, a Chemung County resident, decided to go for a motorcycle ride, stop at a rummage sale and purchase his first milk bottle. Since that fateful day, Norris has gone on to collect more than 1,500 bottles from current and former dairy farms and past creameries. All originated in Chemung County, spanning decades.
In 2018 Chemung County Ag Promotions, a coalition made up of five organizations (Soil and Water, Farm Bureau Cooperative Extension, Ag Society, and the Farmers Museum) whose goal is to promote and educate community members on agriculture, reached out to meet with Norris at his home about his milk bottle collection. In that meeting, we were able to go through the extensive collection and see what a true gem it was.
Norris mentioned that he wanted to see the collection displayed but wanted it to stay together. Ag Promotions decided that the milk bottles would make a great display in the log cabin that is located at the county fairgrounds. When talking about this amazing collection, Chemung County Ag Promotions was fortunate enough to have four organizations and a retired dairy farmer donate money to purchase the collection.
The finished display in the cabin consists of 500 bottles from 128 different dairy farms in Chemung County. To put this all in perspective, there were 89 dairy farms in the county when Norris started the collection in 1981, and today there are only 12 dairy farms and no milk bottled in the county. The bottles are a mixture of embossed and printed labels, and a range of different sizes. Each is filled with white foam beads to give it the look of when it was full and ready for delivery.
Chemung County Ag Promotions would like to thank Ken and Virginia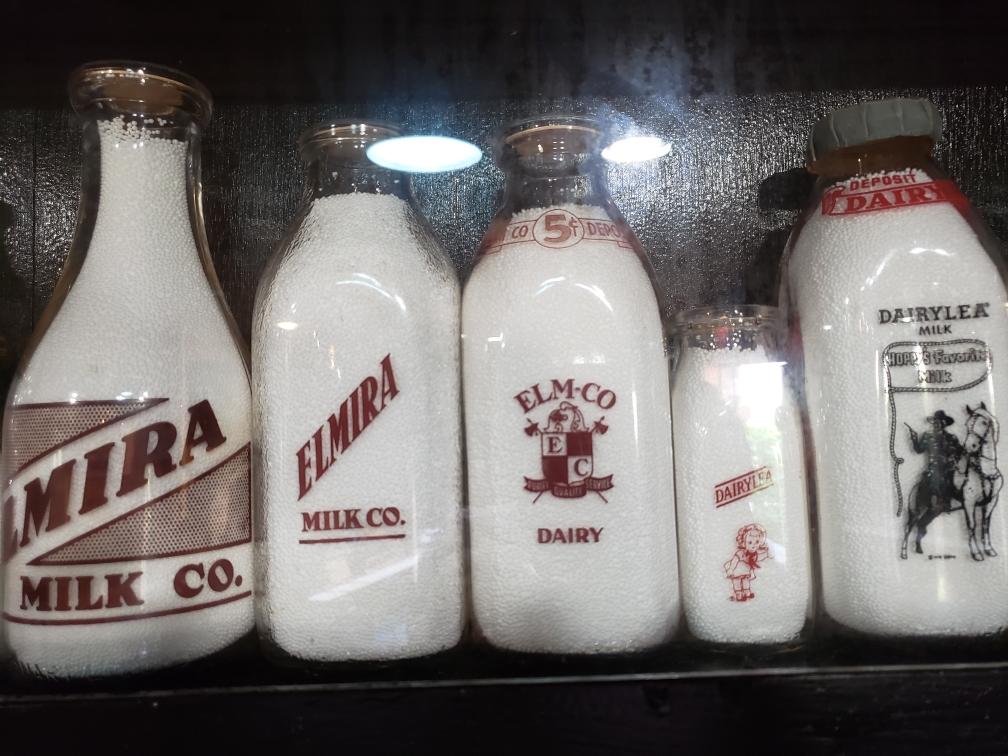 Bush, Chemung County Soil and Water Conservation District, Chemung County Farm Bureau, Chemung County Farmer Museum and the Dairy Herd Improvement Fund for making it possible to purchase the milk bottles. We would also like to thank and recognize Norris Bridgeman for dedicating so much time and energy in creating an amazing collection, and preserving the history of Chemung County Dairy. Chemung County Ag Promotions is honored to own such an amazing piece of county history and we look forward to sharing and educating the community members with this milk bottle display.
Nikole Watts is the Ag Educator for Chemung County Soil and Water Conservation District.