Hudson Falls Dairy Diversifying with A2 Milk and a New Store
By Renée St. Jacques
NYFB Associate Director of Public Policy
Opening a new store in May 2020, at the start of the pandemic was not in the business plan of Ideal Dairy Farms and the Argyle Cheese Farmer, but the store is still open and the new processing facility began running in December 2020. The building in Hudson Falls, NY used to be a family-owned grocery store for many years, but after the store closed in 2019, the building was put up for sale.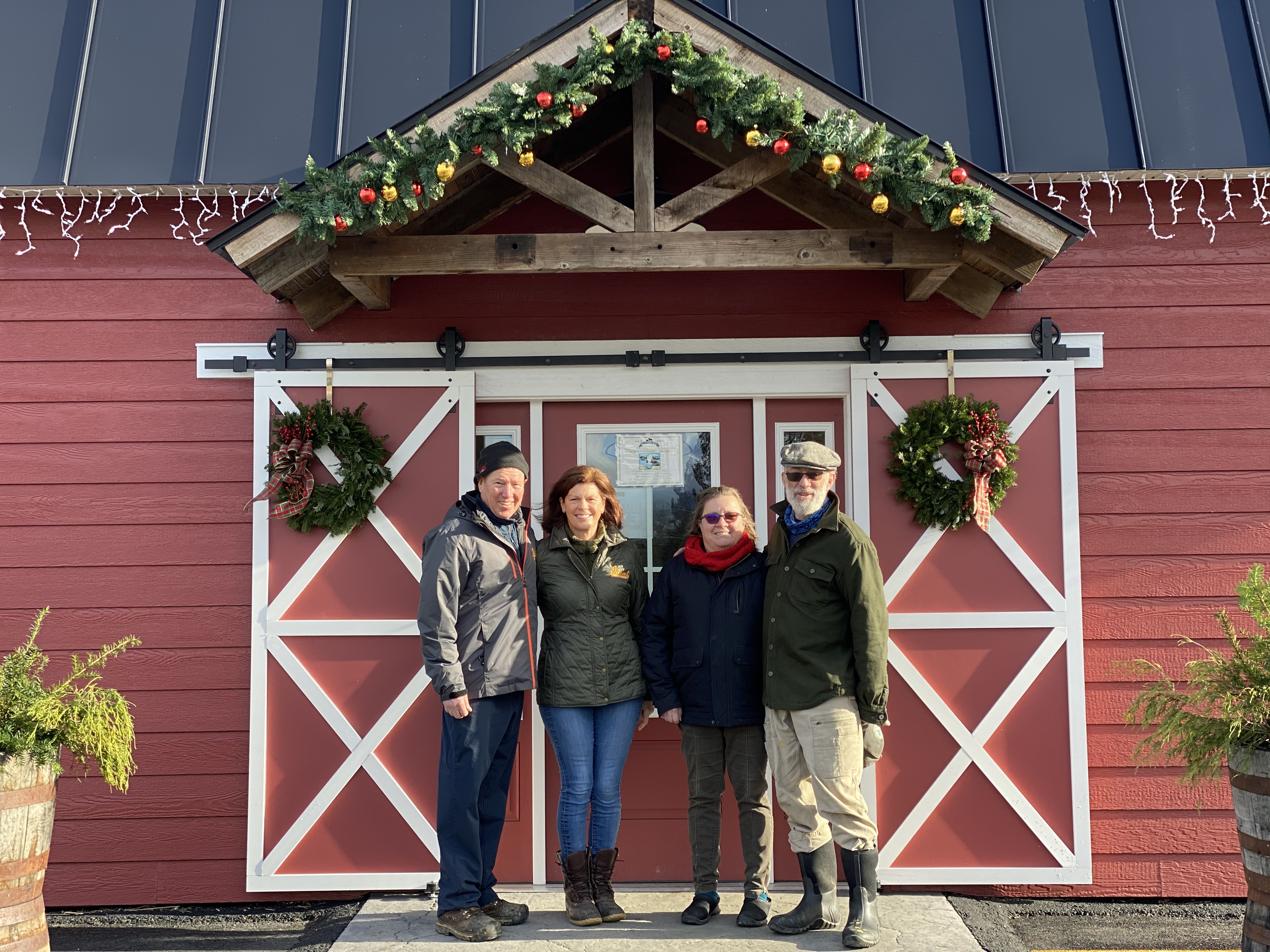 Ideal Dairy Farms milks around 3,000 cows and is located only a few miles from the store. The farm is co-owned by the Getty and Dickinson families. In the nearby town of Argyle, Marge and David Randles started using milk from their family's dairy farm (established in 1860) and other neighboring farms to make cheese and opened the Argyle Cheese Farmer in 2007. As the business grew, they needed more space to increase capacity and efficiency. They had new equipment ready to go if they were able to find an available and affordable space. As the grocery store building became available, the Randles connected with Denise and John Dickinson about purchasing the building.

"Bringing in Ideal was ideal because they have a multi-generation farm, it's so close to the plant (store and facility)," said Marge Randles, Washington County Farm Bureau member. "It is a good match for them along with us."

Although the pandemic has heightened the importance of having contingency plans, Randles was already thinking about a plan to ensure that the store and processing facility go on even after Randles retires from the business. The need for increased capacity and efficiency was also a reason for making the move to Hudson Falls. For Ideal Dairy Farms, starting this new venture was a way to differentiate in the market and reconnect with their community.

"Our big interest was to refortify our connection with our community and also to give an opportunity for people to learn about what goes into producing a gallon of milk or a pound of cheese or yogurt and give them an opportunity to see what we are doing and see how their food is produced. So certainly, the educational aspect was pretty intentional," said Crystal Grimaldi, member of Washington County Farm Bureau.

Grimaldi is the Office and Human Resources Manager for the farm and daughter of Denise and John Dickinson. She explained that Ideal Dairy Farms started packaging their own milk under their own label in 1908 but stopped in 1987. Currently, the majority of the milk produced on the farm goes to Dairy Farmers of America and the other portion goes to the Argyle Cheese Farmer to be bottled or processed into cheese and yogurt. But the new store and processing facility are not the only new business ventures. The portion of milk going to the store and facility is A2 milk. A2 milk is a variety of milk that mostly lacks a form of beta-casein proteins called A1, and instead has mostly the A2 form. At Ideal Dairy Farms, they have always been focused on good genetics and genomically test almost every cow so identifying cows that produce the A2 protein wasn't a huge challenge. The challenge is creating a new market for A2 milk and A2 milk products in the community. While A2 milk is not widely k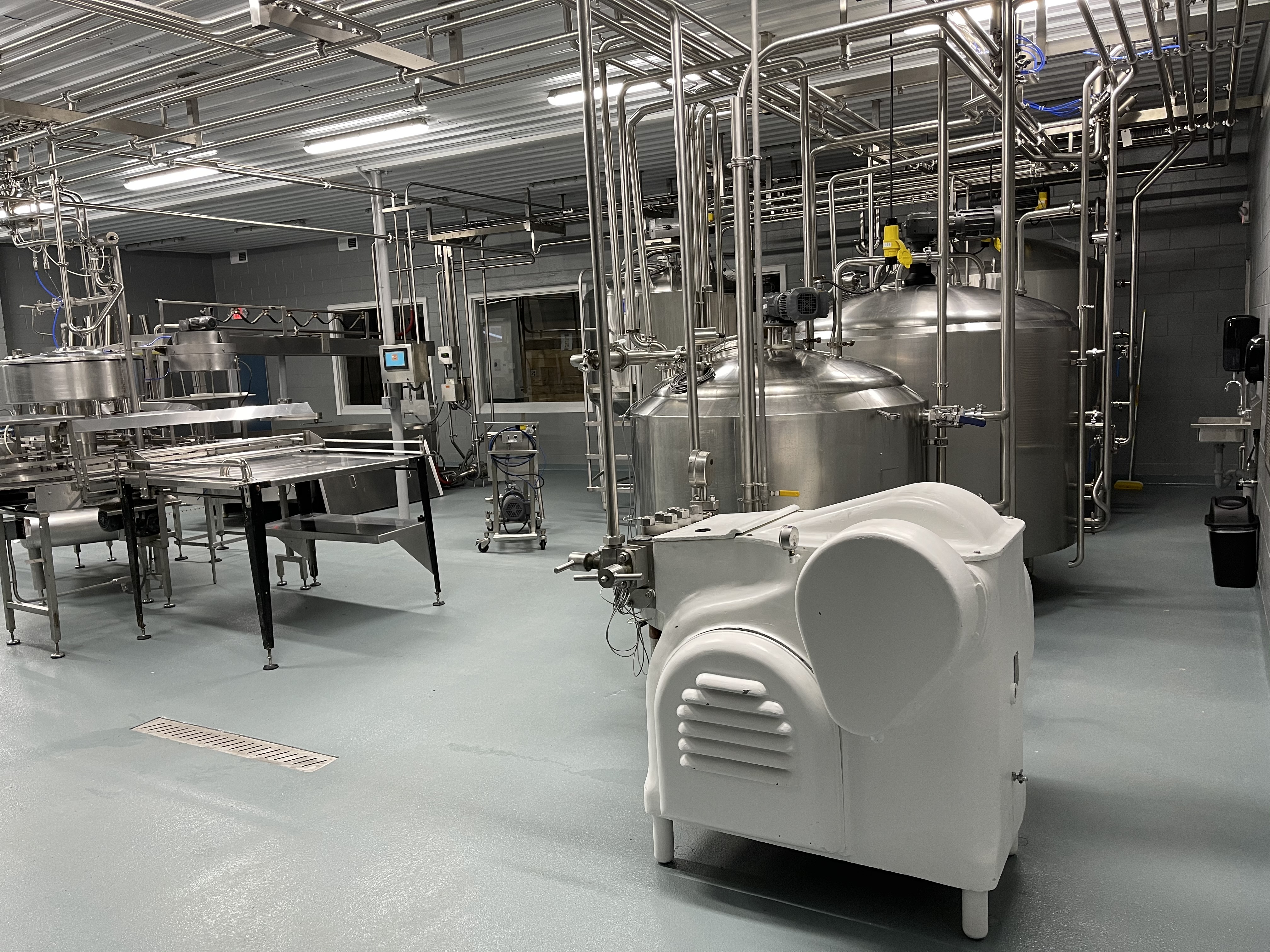 nown, there are more people talking about it as a potential solution for anyone who has a difficult time digesting regular milk.

"It seems to be something that is on people's radar now. Hopefully it gives another option for consumers that are looking for something to try if they have challenges digesting dairy," said Grimaldi.
The new store features the A2 milk and A2 flavored milk along with cheese and yogurt made by the Argyle Cheese Farmer using the A2 milk. Also, there are products from other local farms including eggs, cider, beef, pork and vegetables. Randles makes sure use locally produced ingredients for any additions and flavoring in the products. Randles uses the commercial kitchen to make baked goods along with pizza and cheesecake that is frozen and can be taken home to eat. The pizza has been very popular, especially during the pandemic.

"We use whey from the cheese process in place of water in the crust, so it is protein enriched. And of course, all the cheese is ours. We are getting pretty good reviews. People seem to really love them, and we are selling more and more," said Randles.
Visitors can view the processing facility through three observation windows and watch the processing of the various products. Eventually they hope to share a schedule of when certain products are processed during the week so that visitors know when to stop by. There are educational posters on the walls by the windows with information on farming activities, sustainability practices along with newsletters to take home. A television is set up with videos showing work on the farm. It is important that consumers understand where their food comes from and the steps that farmers take as stewards of the land.

"We want to build something that lasts. We want to be here for the generations to come and to do that we need to be sustainable, and we always need to be getting better," said Grimaldi. "Our environment is something we heavily rely on, so we try to take care of it."
While there have been challenges and learning curves to opening a store and processing facility, the opportunity for consumer agricultural education and diversifying with an additional market is certainly a positive aspect of this new venture. John Dickinson explains that they have only really been using the processing facility for a few months and it is premature to share any ambitious results, but he is hopeful that this opportunity can become a new platform to talk about farming. There has been increasingly more agricultural tourism in Washington County and hopefully this store and facility can be put on the tourism map. Ideal Dairy Farms offers tours and visitors are always asking where they can purchase the farm's milk. Now they can travel a few miles down the road to find it.
"One of the goals was to make it a destination. We need to utilize that to explain why we do what we do and what's good about it," said Dickinson, a member of Washington County Farm Bureau.

As farms continue to diversify and discover new ways to connect with consumers, it is crucial that the state supports its farms and the resiliency of New York's food supply system. Dickinson explained the importance of programs such as Nourish NY and the impact of the pandemic on the consumer's view of New York agriculture.

"When we come out of this pandemic, will people forget about 2020 and go back to the way things used to be or will there be a greater emphasis on the value of having a local and statewide food source," said Dickinson.
Hopefully the latter, but I will say this after tasting some of the products in the new store: the A2 coffee milk, cheese curds, yogurt and pizza are amazing. Highly recommended!
Caption 1: John and Denise Dickinson, left, and Marge and David Randles stand in front of their new store and processing facility: the Argyle Cheese Farmer Farm Store where A2 milk, cheese, yogurt and other dairy products are sold.
Caption 2: At the new processing facility, A2 milk from Ideal Dairy Farms is processed and either bottled or used to make cheese and yogurt. There is also a commercial kitchen used for producing baked goods, frozen pizza and other products to be sold at the store.