Learning to Drop the Rope
Riding Teacher Goes Back to School to Regain Confidence and Discovers a New Language with Her Horses
By Diane Schoonmaker
Special to Grassroots

I started riding 50 years ago. I achieved my B in Pony Club*, attended Cazenovia College for my Associate of Science degree in Equine Studies, received certification from American Riding Instructors Association (ARIA) and became a life member. I was fortunate to have many riding opportunities, from local open English shows, county fa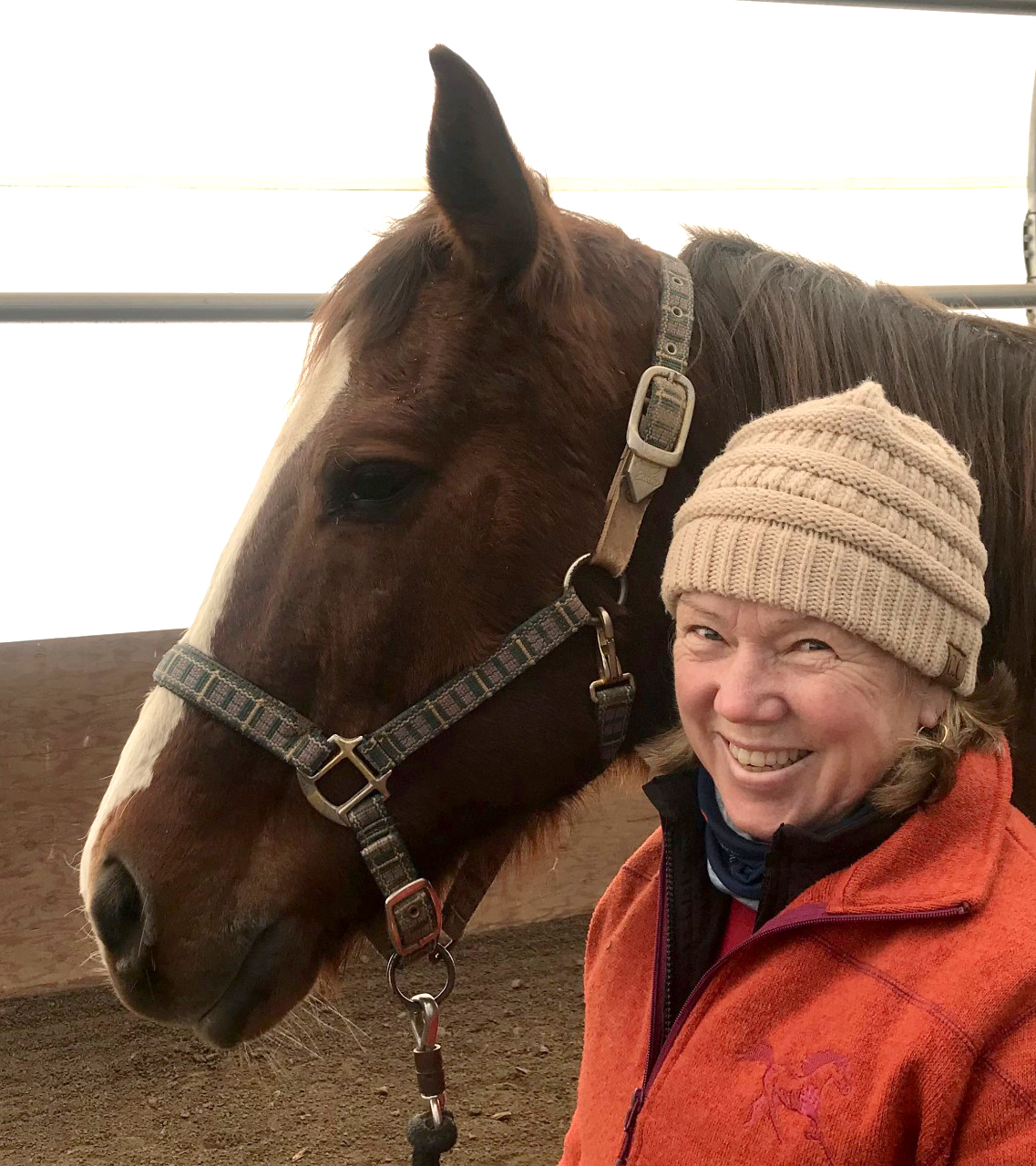 irs, fox hunting, hunter pacing, three-day events, trail riding and rode in a few movies. My passion has always been teaching beginner-low intermediate riders, primarily English.

I started teaching my senior year of high school and happily, I'm still sharing my passion in the same area today. My full-time job is managing our 22-acre farm, Flying Change Farm, six lesson horses and a client base of more than 50 students.

In 2008, I was diagnosed with breast cancer. It was six months out of my life of surgery, chemo and radiation. That was the easy part. The hard part was I lost my confidence around the horses. I doubted my handling them in case I got hurt. I became an "avoidaholic", I was fine teaching, but sent anyone I could to catch the horses for lessons and handle them. For a professional who competed preliminary in the eventing world, I couldn't understand my fears.
Discovering Natural Horsemanship
A friend of mine connected me with a Natural Horsemanship clinician who came to my farm and I hosted ten horses and riders. I came up with the excuse that I am a visual learner and needed to keep things organized so did not participate in the hands on groundwork. The clinician supported many of the current nationally-known Natural Horsemanship practitioners so there was a great variety of techniques. I was exposed to a discipline that seem to fit the bill for what my soul needed. The biggest takeaway was that the whole relationship with your horse can be from the ground, exactly what I needed to work through.

My fellow horse connections and I found a more local Natural Horsemanship instructor who came to do workshops with us on a more regular basis. I was hooked. Learning to disengage the hind quarters, yoyo to stop, be in charge of my horse's feet. That was a whole new vocabulary for me. My confidence in having a "conversation" with my horse took on a whole new meaning. Knowing I could get a horse to stop with a "whisper" of a touch from my rope, or just tipping my ear to my shoulder was so exciting, I was hooked.
Learning a New Language
In learning some of this new language, I found my teaching style change. I was always referred to as the "safety queen," but the whole energy around our farm was calmer. Parents did less looking at their phone during lessons, and listening to what I was saying about relationships between human and equid.
When I "worked" a horse on the ground to see what it was at emotionally or physically before a lesson, they watched with intrigue. I never want to be called a horse whisperer but being able to read the horses all the time, especially before I put a student on certainly set up for success.
Checking in
I now prefer to meet my horses at the gate to bring them in for a lesson so I can start reading them and moving their feet to see where they are at mentally. If they can't politely walk with a loose rope from my right or left, stop when I lightly suggest it, stand patiently, then I know I need to take a few minutes and move their feet. Either with some backing from a series of pressure on their nose or chest, disengage their hindquarters, by getting them to cross their back feet, perhaps they need to "twist off" in the round pen and play at liberty for a few minutes. All a way for us to check in and be on the same language so I understand where they are on the given day and time.

I have learned to "drop the rope", don't hold on to things that need to be held on to so tightly. Ask the horse to be with me, not tell them. If we are both not in the right mind set to work together on a certain day, I look for another activity to do. Just to take the time to hang together, drop the rope, ground tie and groom with the intent of connecting with my horse, not just to clean them.
As with any discipline, we have the option of taking it wherever we want.
I have incorporated the work with my daily program. The horses, my students, the parents and I all benefit from learning to understand each other.

* Certification for Pony Club members who are interested in acquiring further knowledge and proficiency in riding.
Editor's note: Diane is the owner of Flying Change Farm in Accord, NY. She says she's been in remission from cancer for 14 years with the help of her great medical team. She says keeping busy on her farm and staying positive have also helped her health.