Noblehurst Farms Looks Toward the Future of Clean Energy
From Waste to Wattage
Assistant Manager of Public Affairs
What comes around goes around at Noblehurst Farms — in the most literal sense. The seventh-generation dairy farm located in Linwood, NY installed t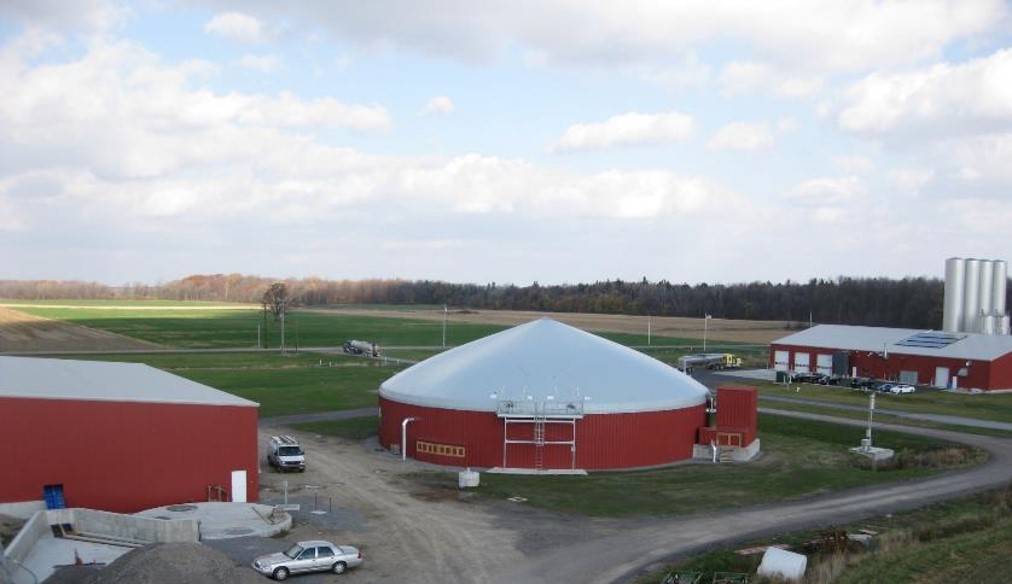 heir current anaerobic digester in 2014, with the help of funding from NYSERDA, and are now running on a closed-loop electrical system. Through the digester, manure and food waste are converted into methane that is converted to electricity, liquid fertilizer used in the fields, and a solid product used for cow bedding.

Noblehurst Farms is an 1,800-cow dairy with than 2,500 acres of land where corn, alfalfa, and wheat are grown. Its vice president, Chris Noble, wears many hats in the operation that include Natural Upcyling, a company that composts pre-consumer food wastes and Craigs Station Creamery, a joint venture of eight local farms and the Dairy Farmers of America co-op.

Noble said expanding a dairy farm into a green business ventures is a natural evolution. "Dairy farmers are the original environmentalists. They use the manure from their cows to fertilize the ground," he said. With an MBA from Cornell and a previous work in banking in New York City, Noble sees the bigger picture with what's coming with biowaste regulation.

"If you think about the root of all the waste we create it's because we have a system focused on disposing that material in a place you don't have to care about. If those resources were focused on being conserved, you could totally reorient how you looked at how food is being packaged to prioritize the reuse of that material. It's an evolution of going from a consumer resource-driven society to one that focused on reusing as much as we can," Noble said.

While the original anaerobic digester at Noblehurst Farms was installed in 2001, the farm has received a lot of attention recently as green energy and waste reduction have become a more pressing topic in New York. Noble says a lot of attention is being paid to biowaste recycling as landfills in the northeastern United States are filling up with no plans to create new ones. There are currently 30 other digesters in the state.

Solar panels provide energy to heat the water that is used at the farm from cleaning the barns and parlor, and the company has used energy audits to identify additional ways to increase efficiency. "We have a relationship with our utility which allows us to interconnect with them. We can effectively match our production of electricity with the demand and consumption we have for electricity. It does vary, but on a monthly basis we're using the electricity that we're producing by using this system," Noble said.

In January, the New York Department of Environmental Conservation proposed new draft regulations to strengthen the Food Donation and Food Scraps Recycling Act. These regulations implement requirements for all designated food scrap generators to donate excess edible food and send food scraps to an organics recycler if one is available with 25 miles of the generator. The act also requires generators to recycle food scraps by using organics recyclers such as composting facilities to reduce the amount of food scraps that would otherwise end up in landfills and ultimately produce methane, a potent greenhouse gas.

Currently, food waste makes up 30 percent of landfill contents. Businesses that deal in food waste, like Wegmans, are ahead of the curve by composting that waste through companies like Natural Upcycling. The waste is collected in a specialized utility truck, taken to a farm and pay that farm/digester a tipping fee to handle that material on behalf of that customer. Other types of companies that utilize this composting service are restaurants, hospitals, universities, schools, cafeterias, food manufacturers and food distribution centers.

Natural Upcycling is upstate New York's largest landfill-diverting food waste collection company and has operations in Delaware, Maine, Maryland, New Jersey, Pennsylvania and Virginia.
Photo caption: The structure with the domed roof is the anaerobic digester at Noblehurst Farms. It was installed in 2014.