Pantomime Mixtures Finds Success in Finger Lakes with Specialty Brew
NYFB Field Advisor, Region 3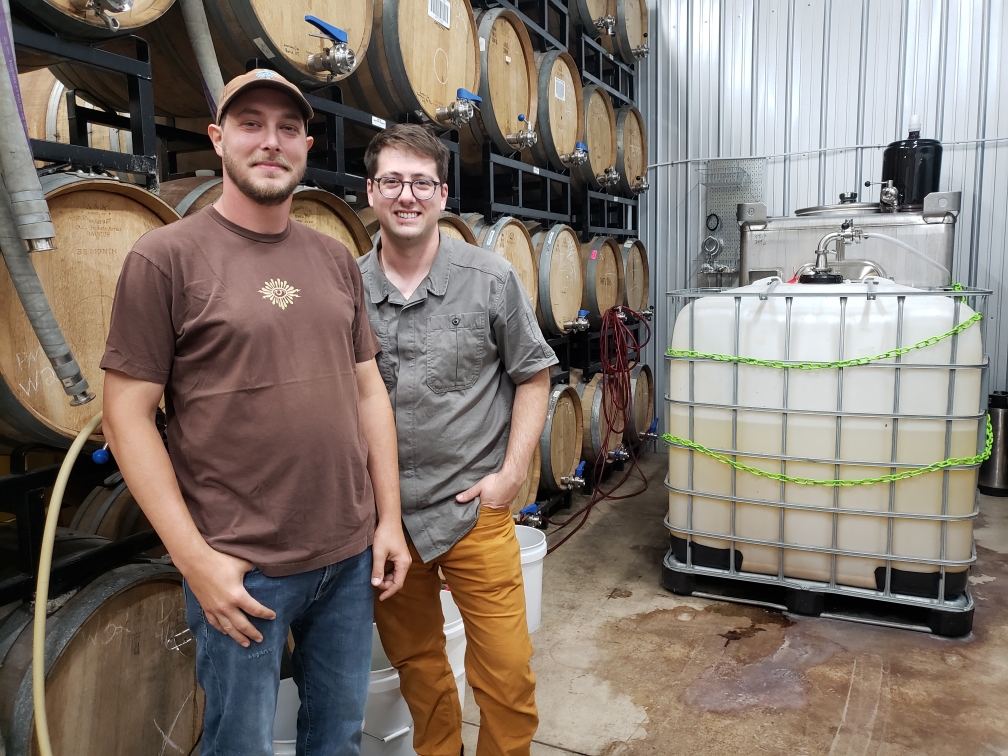 As the sour beer craze sweeps across America, a Finger Lakes brewery has jumped on that bandwagon as not only the basis for their business, Pantomime Mixtures, but as an obsession for the owners Matt Lull and Jesse Perlmutter. Located in the beautiful hamlet of Hector, NY in Schuyler County just above the shores of Seneca Lake, Matt and Jesse have come full circle geographically in an unlikely partnership that is based on their love for sour beers.
Matt grew up in New Jersey, Jesse on Long Island. For different reasons, they both moved to Boulder, Colorado for college at the University of Colorado. It took that 1,800 miles venture to meet up and become life-long friends, which started them on their journey in the beer industry.
Experimenting with Home Brew
While in Colorado, they separately developed a love of sour beers. Jesse was doing some home brewing and starting to play with making some sour beers. As they sampled their own and others' products, they realized they were really growing together to be huge fans of the sour beers and the culture that comes with that industry. It was a niche part of the fast-growing craft beer industry that few were attempting. This started a chain of events that led them back to the East Coast as a duo with a mission.
After doing a little research, working with a few real estate agents, and feeling their way around the Finger Lakes, they fell in love with the little 'burb of Hector, just over 20 miles from Ithaca, 10 miles from Watkins Glen, and right off the very busy Seneca Lake Wine Trail on the east side of Seneca Lake.
It is here in 2017 that they bought an established grape farm with a very small wine cellar and set up shop to make sour beers for all to try. They opened their tasting room to the public in December of 2018.
Upon arrival, Matt and Jesse quickly integrated themselves into the community, using a combination of their social expertise and a chance meeting with their local Farm Bureau representative (Ok, I did track them down) to really put a face on their business and set up a great network of farmers, retailers, friends and neighbor that would pay dividends in their future business dealings. As Matt said, they were "jacked about playing ball in town".
What is Sour Beer?
So, what is a sour beer? Simply put sour beer is beer that has an intentionally acidic, tart, or sour taste. Made famous by the Europeans, especially Belgium and France, it is a taste and process that has taken a long time to catch on in the United States and is a much longer process than traditional brewing method to make. According to vinepair.com, it is the oldest type of brewing in history.
In modern brewing, everything is done in a sanitary environment and specific cultured yeasts are introduced into the process to produce a controlled outcome and product. Sour beers are made by intentionally allowing wild yeast strains and bacteria into that same process with much more of an unpredictable outcome. Interestingly enough, some of the bacteria that wine makers do most anything to avoid are welcome into the sour beer making process, like Brettanomyces.
Using fruit for acidity
While there are several methods to add acidity and thus tartness to a brew, a preferred one by Pantomime Mixtures is to use the addition of fruit. This can directly contribute organic acids, such as citric acid. This preferred method has made Jesse and Matt somewhat rock stars with fruit growers across the state. Who wouldn't want to have bragging rights that their fruit is in a local beer? Some of their choices of fruit include apricots, peaches, sweet and sour cherries, grapes, black and red raspberries, rhubarb, and pawpaws. They are always looking for new fruit ideas. While other local breweries are adding a sour beer or two to their line-ups to keep up with the growing demand, many will not commit to it for several reasons.
Many variables in mixture
The traditional methods to make sour beers are full of uncertainty as to the timing of fermentation, as wild yeast can take months to ferment and potentially a year or more to fully mature. Throw in the uncertainty of the final outcome, and many deem it too much of a risk and time commitment. There are modern sour beer methods that can cut that time to what a "normal" beer would take, but it is just not the same character, complexity, and depth of traditional sour beer.
Finding the right outlets
Pantomime Mixtures is in the sour beer business for the long haul and are truly committed to its style, taste and culture. While COVID could be seen as a hinderance to their fledgling business, they have embraced it as a learning curve and a chance to really think through their business and marketing model. With their passion for sour beers, it led them to not just putting their product in any outlet that would take it, but to search out the right outlets that would share in their vision for sour beers as a part of the larger beer industry. As Jesse says, it is one of those beverages you have to be obsessed with.
Their website, www.pantomimemixtures.com, says it all: "Pantomime Mixtures is focused on creating mixed culture and spontaneously fermented ales using locally sourced ingredients. We are driven by a passion for these styles, and have been inspired by both American and Belgian brewers that have come before us. Pantomime Mixtures does not claim to be unique in style, but unique in character to our location. We searched very hard for the right place to sink our roots, and could not feel more lucky to have ended up in Hector, NY Situated on a vineyard with views of Seneca Lake, we have found the perfect location for this project."
For more information: www.pantomimemixtures.com
Photo caption: Matt Lull, left, and Jesse Perlmutter show off the production facilty at Pantomime Mixtures in Hector, NY.