Romulus FFA Reviving History in Seneca County

By Jami Willard
Promotion & Education State Committee
District 3 Representative
Since I started my journey as an agricultural teacher it has been a dream of mine to bring back Future Farmers of America in Seneca County, and I finally made this dream come true. On Jan. 14, I was notified of my chapter's approval from Cornell. I am now the first advisor since 1958 at the Romulus Central School District.
The Romulus FFA has been very successful over the last couple of months and has received lots of support along the way. We currently have 29 active members and counting. The chapter has a great group of officers who are eager to get all members involved, encourage, and show leadership throughout our district.
Since we have started meeting, the chapter has been working together to develop and support all the ideas that the members have. We have been working closely with other FFA chapters in the district and making plans to attend as many events as we can this school year. We have planned multiple field trips already and are looking forward to attending all events. The chapter hopes to get to Camp Oswegatchie in the summertime.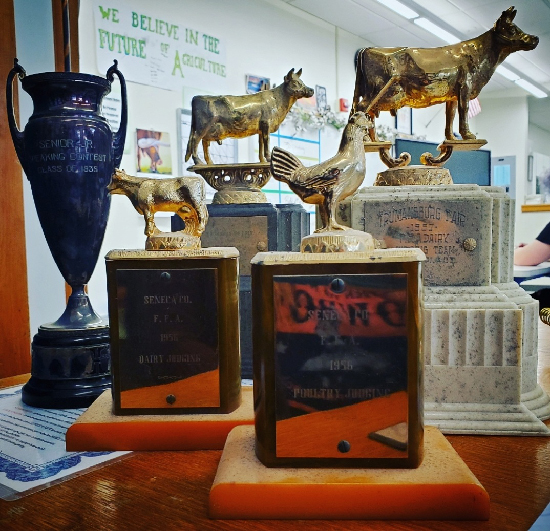 The historian, Morgan Kisner has been working closely with both staff members and me to dig up any history of the first FFA organization. After spending hours upon hours going through old yearbooks and newspaper clippings, we were able to find out that the first "Future Farmers of America" at Romulus was organized in 1935. The last group pictured was in 1958. With help from Lisa Freier, we recently sent out letters to past FFA members who might still be alive. Freier sent out roughly 35 letters to families and members, and some of those members are still alive today. So far, we have had a couple people reach back out to us. One member said he had some papers to go through and then would get back to us as soon as he organized them. We are very fortunate to be able to get in touch with these folks, and it helps to have a supportive community.
Kisner's grandfather, Karl Kisner participated from 1951 to 1955. Kisner's grandfather, as well as others, are very excited to see FFA back. They enjoyed their time participating in events locally. Kisner interviewed her grandfather, and he explained how successful their FFA was, "a great group of farm boys and no women."
His favorite memories were going on field trips to Cornell, as well as other farms, and planting trees for the government. He said they kept track of accomplishments, and that's what we plan to do as well!
I was able to find some of their old trophies with some guidance. One from 1935, and a few others dated in 1956 from the dairy and poultry contests at the Trumansburg Fairgrounds. It is truly so special to bring this history back out for all to enjoy and look back on. I hope that it will inspire others in the future, as it has for me.
Romulus FFA is very excited about this new chapter, and I am looking forward to helping all members grow and succeed.
Captions:
(top) Jami Willard is the first FFA advisor at Romulus High School since 1958.
(bottom) Two trophies from past Romulus FFA chapters were recently recovered. One is from 1935 and a few others are from 1956 from the dairy and poultry contests at the Trumansburg Fairgrounds.