Sun Shines Again for Retired Harness Horses
By Katie Navarra
Special to G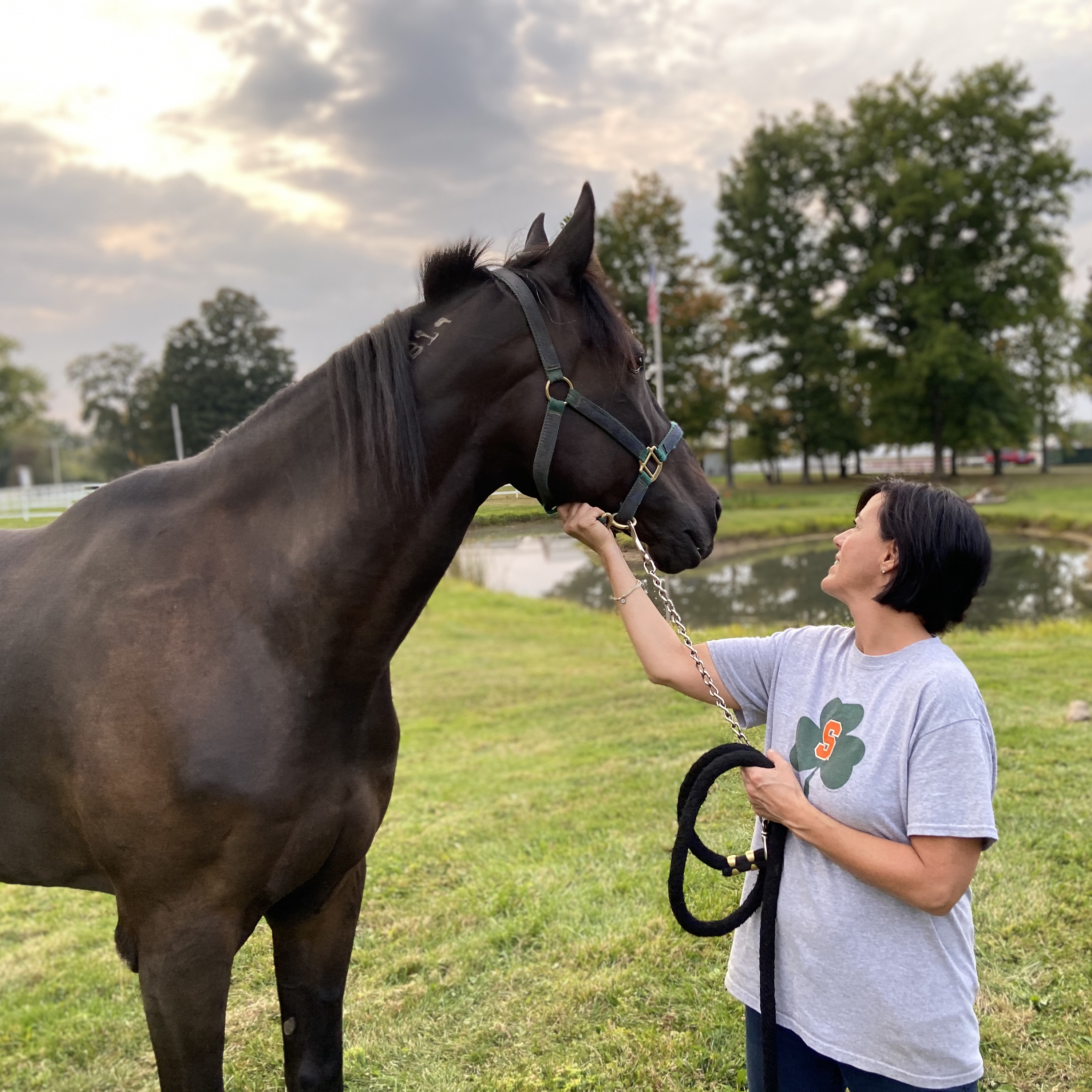 rassroots
Perfect Man was as his name implied—perfect. The Standardbred racehorse had impeccable manners, learned quickly, and was stunning. Mary Minkoff remembers when the horse's owners surrendered him to Sunshine Horses. The owners knew his days of racing were over. They took the responsible route, asking for help to find him a good home. Not every horse is that lucky.

Minkoff remembers the day Tito was rescued from a kill pen. The horse was emaciated. His eyes lacked spirit. A horse's body condition is evaluated on a Henneke scale. A 4 to 6 is considered ideal. Tito was between 2 and 3. Through rehabilitation, TLC and retraining Sunshine Horses. brought the light back to his eyes.
"He has come forward to be a beautiful horse and is the love of the farm," said Minkoff. She serves as vice president of the non-profit. "We save horses from situations like that and take horses from responsible owners who want to surrender a horse to us to make sure they have a good place to land."

Founded by Kate Starr in 2003, the farm has found new homes for more than 200 horses. Starr worked in the harness racing industry and knew those horses that didn't cut it, were lame or finished racing, were loaded up and shipped to sales. Meat buyers were often the highest bidders. Starr recognized the potential of Standardbreds. She knew they could excel in second careers as companions, riding or carriage horses, and Mounted Police partners and that inspired her work.

"Last year we adopted out about 17 horses," Minkoff said. "Because of COVID, we had challenges with donations, so we did not bring in any new horses. We look forward to getting back to bringing more in 2021."

Sunshine Horses, Inc. specializes in retraining and re-homing Standardbred racehorses but accepts other breeds as well. Of its current 21 horse population, 12 are standardbreds. The facility relies on its 125 active volunteers for upkeep, daily chores, and retraining. In Clyde, just north of Syracuse, Sunshine Horses has ample space to provide the former racehorses a soft place to land.

The organization follows strict standards and procedures for providing top-notch care. That's what led the group to seek accreditation from the Standardbred Transition Alliance (STA), an Ohio-based organization. Formed in April 2019, the industry-led initiative accredits, inspects, and awards grants to approved organizations that acquire, rehabilitate, retrain, and re-home Standardbreds.

"The Harness Industry has adoption programs that are over 30 years old, so the concept of facilitating retirement and transitioning to second careers isn't a new one," said Jennifer Daniels, the organization's administrator. "How to make sure these charities are receiving consistent funding to operate is one motivation behind our alliance."

Despite the uncertainty of 2020, the STA was still able to issue $40,000 in grants to three organizations, of which Sunshine Horses received about $8,000, according to Minkoff.

Donations are the primary source of funding to cover the estimated $200 per month needed to care for the horses. Once the horses are healthy and retrained, they are candidates for adoption. Interested adopters must provide references and allow Sunshine Horses. to visit their barn.
"They also have them sign a contract that they cannot breed or sell the horse," she said. "That way it will always come back to us so we can continue watching out for its care and looking for its forever home."