Sweet Success: Hobby Leads to State-of-the-Art Syrup Production
NYFB Field Staff - Region 6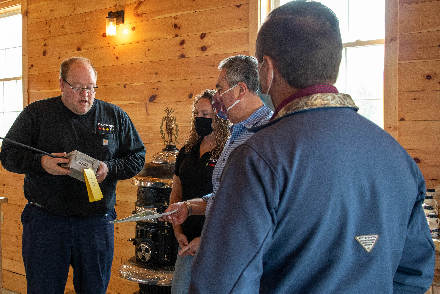 The McKnight family is no stranger to farming; the dairy side of their business has been in operation since 1885. Travis McKnight and his wife Natalie, along with their four children represent the fifth and sixth generation on the farm.
In 2017, Travis and Natalie began McKnight Maple Mill, the maple side of the farm with a modest vision of 250 buckets and a small evaporator. What began as just a hobby, has evolved into close to 14,000 taps utilizing the latest technology.
From his experience dairy farming, Travis knows the importance of employing best management practices both from a food safety and profitability standpoint. The goal on their farm has always been to produce the highest quality and safest food possible.
In 2020, McKnight Maple Mill had their first official year of certified organic production. Currently the farm mostly markets in bulk through Bascom Maple so being certified organic opens other markets for their bulk buyers.
They also opened a retail farm stand this year, and plan to market more of their syrup and maple products through the stand. They chose to be certified organic because of the strict guidelines they must follow and to give people the satisfaction that their syrup is produced with the best management practices. Maple is certified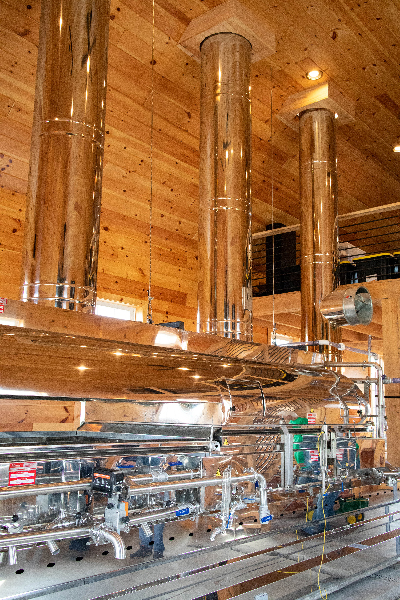 organic by following specific guidelines set forth by the certifying agency. They include following strict sugar bush management, inspections, and tapping guidelines.
Furthermore, documentation of sap production, syrup production, cleaning of equipment and sales logs is also required. Organic maple producers are only allowed use of certified organic defoamers for cleaning equipment and cannot use equipment that is galvanized or soldered containing lead.
To help maximize yields and make the most efficient use of labor and time, McKnight Maple Mill utilizes the latest technology. In the sugar bush they use variable speed sap pumps and vacuum pumps to save electricity and an extensive vacuum monitoring system in all woods to monitor vacuum levels 24/7.
Before this system, Travis and family were walking the miles of sap lines to determine where their lines were leaking. Now a remote sensor pinpoints exactly where the leak is saving time and increasing yields. This monitoring systems also allows them to remotely monitor the levels in their remote sap tanks. When sap is flowing rapidly, it allows the farm to empty the bulk tanks more frequently resulting in less loss due to tank overflow.
In the sugar shack they use a high brix reverse osmosis machine which removes excess water from the maple sap to concentrate the sap, so it takes less boil time to produce syrup. They then use a milk bulk tank to cool the concentrated sap to 27 degrees to slow bacteria growth and to store smaller sap runs so they only boil a few times a week. Storing up smaller sap runs until they can boil larger quantities saves labor, materials and makes a better-quality syrup. When they boil. They also utilize a high efficiency oil fired evaporator which saves on fuel cost.
Photo 1: Travis McKnight with the remote sensor he uses to pinpoint leaks in sap lines.
Photo 2: The McKnights use a milk bulk tank to cool the concentrated sap to 27 degrees to slow bacteria growth and to store smaller sap runs.
FOR MORE INFORMATION
McKnight Maple Mill
54 McKnight Rd.
Chase Mills, NY 13621
315-323-7698
Facebook: McKnight's Maple Mill