U-Pick Farms Finding Fall Success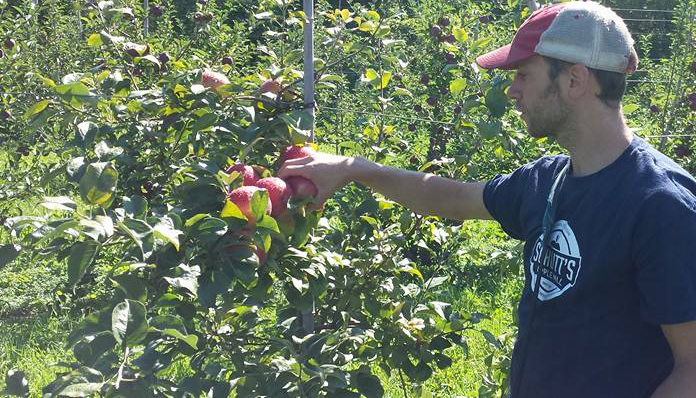 Evan Schutt picks apples at his family's farm in Webster.
By Brooks Brown
While the early days of the pandemic brought much uncertainty and concern for both farmers and consumers, the fall season has brought a sweet spot for both through pick-your-own orchards and farm markets.
According to guidance released in early September by Gov. Andrew Cuomo, these businesses are considered "low-risk outdoor arts and entertainment," and must comply with protocols that require customers to wear masks and operate a reduced capacity of 33 percent. Hayrides are required to have social distancing of six feet between groups and sanitize hightouch surfaces like handrails between each ride. Petting zoos are prohibited this fall, but animal exhibits are allowed provided there is no human-to-animal contact permitted. Farmers markets and craft beverage trails are also open this fall.
Schutt's Apple Mill, opened since 1918 in Webster, is in its first year as a you-pick operation and fourth generation owner Evan Schutt says business is booming and COVID-19 regulations haven't been an issue out in the orchard.
"Our first weekend opened was quite busy… What's nice is that they're high density trees and they're three feet apart so you can very easily communicate with the customer what three feet is. As long as you're smart, it can go well and the customers are willing to listen to you as well. It's not been a major issue," he said.
Schutt theorizes that with so many activities canceled due to COVID-19, it's given you-pick operations a time to shine.
"There are no festivals, there are no carnivals this year and kids are not school on a regular basis, people are looking for things to do. You're outside, the winds blowing and you're in an apple orchard…this is more of an activity where you can enjoy your family in nature," Schutt said.
Schutt also says he's been heartened by the concern for local farm operations from consumers. He says since the pandemic started, regular customers have asked about the health of the farm, that also sells fried cakes and cider, and have made more of a point to buy local. Other you-pick operations have shared had similar reports.
"People just want to get out. It's one of the few activities they can do with family," said fruit farmer Jim Bittner of Bittner-Singer Orchards in Appleton who said he didn't know what to expect at the start of the season. "Our you-pick orchard had a nice crop and it sold out. We didn't have a cherry left in there."
One change at the cherry orchard this year was the elimination of cart rides around the 20-acre orchard.
"Everybody had to walk. We did buy a bunch of little red wagons for people to pull and put their stuff in and that worked out better than I thought," Bittner said. "We did make a sanitizing station. We put a sink with water that was run by a foot valve and sanitizer and soap and towels. A lot of people used it and appreciated that it was out there at the edge of the orchard."
Kevin Bowman of Bowman's Orchards in Rexford says his farm has had to adapt to some changes but has been very busy.
"We used to weigh everything from you-pick, but now we use a prepaid bag so (customers) can't bring their own containers. That was the biggest change," Bowman said.
Bowman says his you-pick business has been busy all year.
"At strawberry time all the way through the summer. It was fast and furious," he said.
Bowman said one change has been in hayrides.
"We can't fill the wagons so we're not doing as much of it, but we're still able to do it. The seats are really far apart so it's not that much of an issue," Bowman said.
Jennifer Jackson Jensen of Iron Kettle Farms in Candor (Tioga County) says activities have already started on her farm in preparation for October. The farm sells pumpkins and produce, has retail space, a farm market and is well known for the various outdoor activities offered to children in the fall. Jensen says the farm has already been busy on the weekends and they've opened for a weekend test run.
"We're gearing up and working out all the kinks before the rush in October," Jensen said. "We're seeing a lot more kids and families during the week when typically, we didn't because both parents would be working, kids would be in school."
Jensen said costumers feel comfortable at the farm.
"Our market is very open air. Most people understand and are very cooperative."
New York is the second-highest apple producer in the country (next to Washington) and offers more varieties than any state. According to the USDA, New York produces almost 30 million bushels annually. New York State apples are grown on about 55,000 acres, in six major production districts and has 160 pick-your-own farms.