Vertical Integration Vital to Success at Giroux Poultry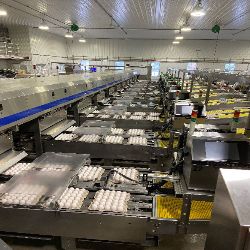 Region 6 Field Advisor
Giroux Poultry is a third-generation family-run poultry farm located in Chazy, NY. The largest component of the business is the production of white and brown eggs in both conventional and cage-free systems. Giroux's is moving towards 100% cage-free production by 2025 in response to supply chain specifications. In addition to the eggs they produce, they have diversified into apples and crop production. The three pillars of sustainability, economic, social, and environmental, are paramount to the business.

According to Craig Giroux, one of the owners of Giroux Poultry, vertical integration is essential to survive in today's commodity egg markets. Nearly 90% of all egg producers are vertically integrated. Giroux Poultry grows 50% of the crops needed to feed their chickens and mills their own feed. They are part of a cooperative which owns a hatchery for their day-old pullets but raise the birds on-farm after day one. Giroux Poultry also does their own trucking and marketing. Only 20% of all eggs in New York grocery stores come from New York- the other 80% come from the Midwest. The farm believes Vertical integration is vital to the economic sustainability of Giroux Poultry.

To improve environmental sustainability, Giroux Poultry uses their poultry litter as a nutrients for their field crops. Over the years they have improved the processing of the litter from air drying, to composting, and now to pelletizing and crumbling. Any excess litter they produce is wholesaled to other farmers in the Northeast and their litter is OMRI (Organics Material Review Institute) certified and can be used in organic production. They also use pulp paper packaging for most of the eggs sold in New England.
Craig Giroux did note that their packaging choice is primarily dictated by their supply chains and that there are environmental pros and cons to each of the different types of egg packaging.

Giroux Poultry is actively involved in the larger community of Clinton County and in the agricultural community. Owners Craig and Willie Giroux are actively involved in the egg industry at both a state and national level. The business supports many local initiatives including the youth commission of Clinton County, the Town Board, and the School Board. Giroux Poultry is a pillar of the community in Clinton County and is excited to continue to innovate as the fourth generation becomes involved.

Caption: The Giroux Poultry packaging line in Chazy, NY.