New York Farm Bureau Safety Group 486 Workers' Compensation
---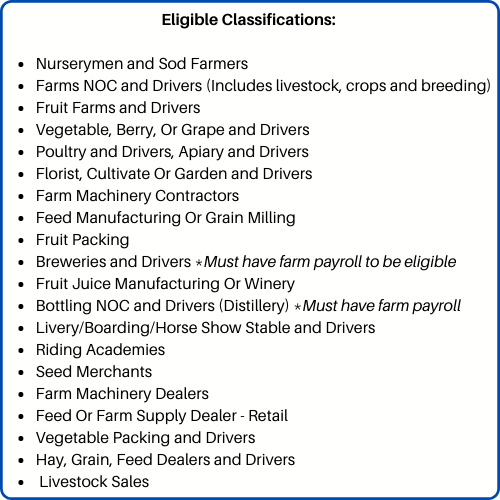 The New York Farm Bureau® Safety Group 486 was started by farmers who understood the need for safety, security, and competitive pricing. Since 1967, we have been providing just that.
To participate with Safety Group 486, you must be an active, continuous member of the New York Farm Bureau. Join NYFB and become eligible for Workers' Compensation Insurance.
If you have a new or existing business in agriculture or a related field, call Michele Bates or Lucy Tefft at 1-800-342-4143 for a price quote or use the Get A Quote form today.
if you have any questions or concerns on an active policy, call 1-800-342-4143 or use the Contact Us form.
Safety Group 486 Benefits:
Be eligible for an up-front discount up to 25%.
Be eligible for a dividend check each year that has averaged 42% the past five years.*
Get free safety inspections to protect you, your employees, and your business as well as access to training materials, posters and online employee training.
Enjoy the security of knowing that your insurance is in the hands of an organization that knows and understands the needs of the agricultural industry.
Have the satisfaction of knowing that modest earnings on Workers' Compensation Insurance by New York Farm Bureau® support important programs that serve New York farmers every day.
Licensed, professional staff to serve all your workers' compensation needs and act as an advocate for you with the New York State Insurance Fund.
*Percentage is based on dividends paid 2018 through 2022. Dividends are not guaranteed. Continued membership in NYFB is required to participate in Safety Group 486. Eligibility for insurance is subject to the New York State Insurance Fund underwriting requirements. NYFB and its subsidiaries have no authority to bind coverage for any member.