EPA Receives a Box Full of Opposition
Nearly 2,200 signed postcards were delivered to the Environmental Protection Agency asking it to "Ditch the Rule." The cards are to be included in the official public comments to the EPA and Army Corps of Engineers in response to the proposed rule to redefine "Waters of the U.S." regulated under the Clean Water Act.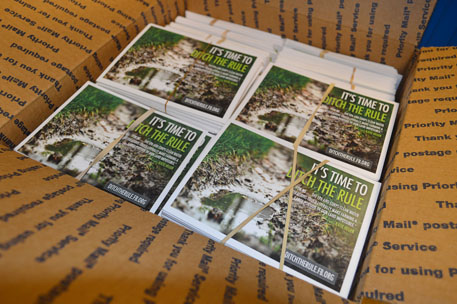 The postcards are part of a months-long effort by New York Farm Bureau. Concerned farmers and community members filled out the cards at county fairs, farm shows, and Farm Bureau meetings. They fear the rule will allow small ponds, ditches, and isolated wet spots to be treated as navigable waterways and that "the proposal is a serious threat to farming and ranching, homebuilding, energy production and other land use."
This is in line with the public comments that New York Farm Bureau also submitted at the conclusion of the public comment period last week. The impact of this rule change will be far reaching, and would especially place family farms at serious risk. It is believed that a significant amount of valuable, productive land could fall out of agricultural use and economic development could be hampered across the state in order to comply with these regulations.
"New York and the country are seeing growing demand for local food, but this regulation makes it more expensive and difficult to farm domestically by expanding the Clean Water Act to areas best regulated by the states. When foreign sources of food are less safe and much less regulated, this rule could indirectly lead to a less safe food supply for our population," said Dean Norton, New York Farm Bureau president, in the eight-page letter to the EPA.
There are also grave concerns with the confusion this broadly written rule creates. The comments stress that "it is nearly impossible for a typical citizen farmer to determine whether or not many features on his or her farm will be considered "waters of the U.S." and whether or not a federal permit is required to continue farming activities on their land." Roadside ditches may now be considered "tributaries" under federal jurisdiction and ephemeral streams that are dry most of the year would fall under the same scrutiny as navigable waters such as rivers and lakes.
This proposed rule has serious implications far beyond agriculture. Thirty-five counties and 20 towns across New York passed resolutions denouncing the EPA's efforts due to the negative impacts and high costs it will place on our communities. Nine different business and local governmental organizations partnered with New York Farm Bureau and sent a letter expressing additional concerns that affect taxpayers and economic development.
"Much is at stake if the federal government moves forward on this proposal. That is why New York Farm Bureau is especially grateful for so many who have raised their voices and called for the EPA to withdraw the rule. The agency cannot ignore the overwhelming number of concerns and must refocus its efforts to devise a clear and effective plan to safeguard our water," said Norton.
A copy of New York Farm Bureau's submitted comments is now available.